The story behind our kitchens
Made for real life, tested by real people
Before designing our GoodHome kitchens – we made it our mission to create a range that caters to our customer's needs. We visited hundreds of homes across Europe (we were even offered coffee and cake) and by doing so, we witnessed first-hand the trials and tribulations we all face in our kitchens, and most importantly, how to fix them.
What did we learn? Well, we discovered a "new look" was the reason most of our customers buy a new kitchen. So, we've developed a stylish range in a variety of colours, materials and finishes to complement every home. You also told us that you want your kitchen to be affordable, of high-quality, and ultimately, to stand strong over the years. Our improved product range has a 25-year kitchen guarantee* (15 years more than our last kitchen guarantee). After plenty of planning and testing, we can confidently say, our kitchens are built to withstand the demands of daily life.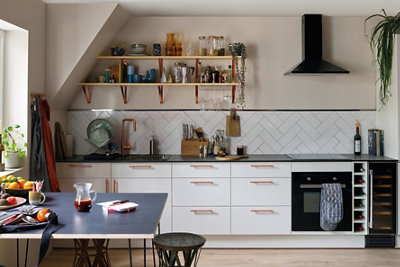 We've got your back
Taking on a big project such as a kitchen renovation can be overwhelming. That's why we're here to help you every step of the way. Visit our kitchen projects page for inspiration and read 4 steps to planning your kitchen for a guide on getting started. Once you have an idea of what you want and feel ready to talk to one of our in-store colleagues, book an in-store or virtual appointment to discuss your kitchen design.
Book a free kitchen planning appointment
Unbeatable value
We don't believe in adding premium price tags to our products. Our range is created to offer you great quality at an affordable price. We were awarded the "Lowest Priced National Retailer of Kitchens" in 2019.**
How we designed our GoodHome kitchens
Creating a kitchen range is much like following a recipe – with a pinch of preparation, a dash of design and lashings of hard-work – we've cooked up the perfect collection of kitchen products. Read on to find out more about the care and consideration that's gone into creating every aspect of our range…
Cabinets and doors
Kitchen cabinets and doors are the backbone of any kitchen – they boldly hold our food, crockery, and appliances. We know how integral they are to building a kitchen you can depend on, which is why our cabinets are constructed from 1.8cm thick MFC to ensure lasting durability. All our kitchen cabinetry has been tested by the Furniture Industry Research Association (FIRA) to meet quality level H (heavy domestic use). This means that our cabinets have been subjected to (and survived) load and drop testing, and the strength of the doors and shelves meet industry standards. With a kitchen that's guaranteed 25 years, these cupboards will last from grand opening to grandchildren.
Sustainability is more prevalent than ever, and for good reason. You'll be pleased to hear we've decided against the use of PVC in the range. Our cabinets, doors and drawer fronts are constructed from sustainably sourced or recycled timber – we've built our kitchens with the next generation in mind.
Our Kombu hinges
With a unique soft-close design, our Kombu hinges allow unhindered access to your kitchen cabinet. We've tested them for 80,000 cycles – so we know they can put up with a lot. From toddlers to teenagers, they'll take to family life smoothly, all while closing softly.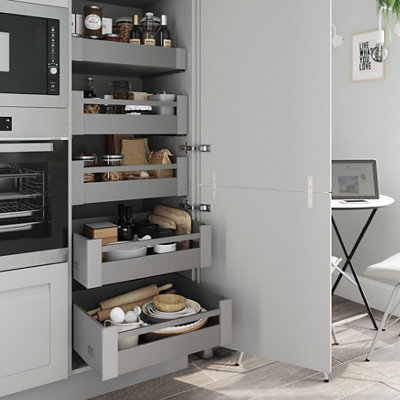 Worktops
Don't be afraid to make a splash, our laminate surfaces are quick to forgive spillages and smears. We've tested our laminates against the worst stain causing culprits, including black coffee, red wine, and butter. Our worktops are made of hygienic, heat and scratch resistant, easy to clean surfaces so they can handle every kind of chef. And with a 25-year guarantee, these worktops will be dusted with enough flour to bake a generation of cookies.
Standard laminate
Our laminate square edge worktops have undergone a 'dip test' to check the edge is secure and that no water can ingress into the wooden core
Our Berberis gloss laminate range is MAR treated for improved scratch resistance
Our Berberis super matt laminate range is anti-fingerprint and has stylish low light reflection
Nepeta
Our Nepeta worktop is made from laminate using a high-quality manufacturing process, which means that it is pure laminated décor, rather than chipboard. Choosing a Nepeta worktop comes with loads of advantages.
No edging is required
Higher heat and scratch resistance than standard laminate
Completely water-resistant (as there are no wooden elements!)
Sealed top layer that is hygienic and easy to clean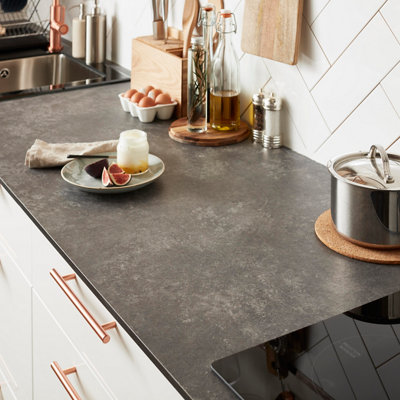 Made with quality materials
We've worked closely with professionals to select materials that are not only high quality, but also kind to the environment. Our whole range is built using sustainably sourced timber for total peace of mind.
Drawers
We've load-tested our kitchen drawers based on customer usage – they can hold up to a hefty 35kg. And with a 16mm thick base that holds its shape without bending, be rest assured that even your heaviest pots, pans and crockery will be safe in our drawers. Yes, even that cast-iron pot that only comes out at Christmas. Not only that, they've been tested for up to 100,000 open and close cycles to ensure they always open just as smoothly as the first time.
Our drawers have a soft close runner for silent and smooth closing motion, which means you can satisfy your midnight snack cravings without waking up the whole family. Our kitchens have dozens of drawer options, from under-sink and under-oven to plinth and larder drawers, because sometimes it's what's on the inside that counts. Use our range of flexible modular cutlery trays and drawer dividers to customise your drawers to work for you. Just like our kitchen cabinets, doors and worktops, our drawers also benefit from a 25-year guarantee.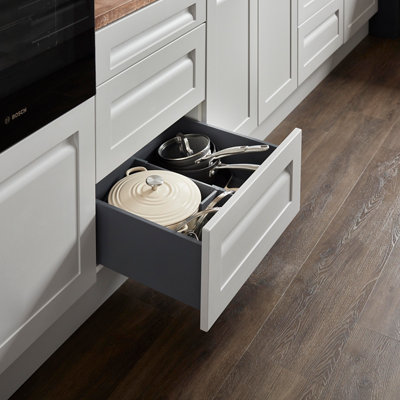 GoodHome appliances
Whether you're always cooking up a storm, or you'll happily have cheese on toast for dinner – our GoodHome Bamia appliances will make your life easier. You're guaranteed a seamless cooking experience every time, which is why we've guaranteed our GoodHome ovens, hobs, and hoods for 5 years.
Ovens
Our Bamia ovens have a range of features that are not only time efficient, but energy efficient too. The GoodHome eco cooking function oven turns on and off throughout the cycle to save energy. For easy pre-heating, our Bamia ovens automatically switch 180 degrees at the touch of a button. You can also use pre-sets to remember familiar meals. Is there anything this oven can't do?
Hobs
We've designed our GoodHome hobs to be clever and efficient. Simply place a pan on the hob and touch the interface to automatically warm your pan. If you're midway through sautéing your mushrooms and the postman turns up, just press pause for a distraction-proof dinner every time.
Hoods
GoodHome cooker hoods are paired with our hobs to auto-adjust their extraction rate. So, if you're simmering something at a low heat, your hood will automatically know to set the extraction rate to low too. Our GoodHome hoods feature hand wave recognition – so whether your hands are full or covered in flour – you can benefit from touch free control.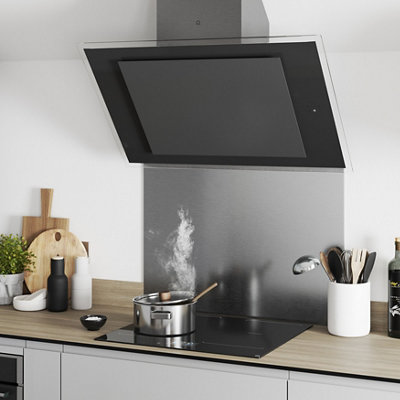 Sinks and taps
Sinks and taps are often the neglected elements of the kitchen – an afterthought added in at the last minute. While that may be the case for some, we couldn't disagree with that sentiment more. An efficient and stylish sink and tap can make a massive difference to your kitchen. We've designed innovative products that you can rely on – which is why we've guaranteed our GoodHome sinks for 15 years and our GoodHome taps for 10 years.
Sinks
Our customers have small kitchens, in fact 63% are less than 12m2. Our Romesco sink is the answer to all your space-related problems. Including clever integrated accessories that create space within the sink bowl, such as a chopping board, colander, and drying rack. The Romesco sink has been designed with a double ledge rim so that the accessories can be layered within the bowl. This sink will revolutionise the way you use your kitchen.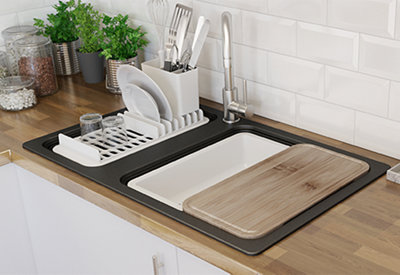 Taps
Brought to life by our in-house design team, our GoodHome taps are unique and stand out from the crowd. They've been designed with a clever aerator fitted in the tap to help regulate the flow of water* – which means you'll save money on your water bill, and you'll be doing the environment a lot of good too. *excludes spring neck taps.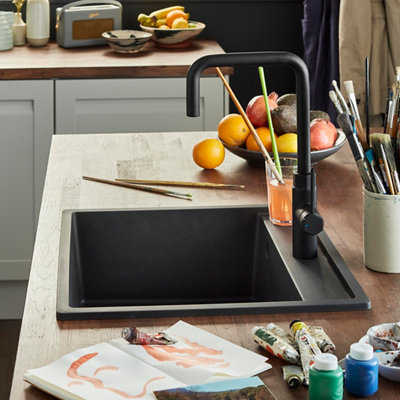 *25-year guarantee on worktops, drawers, cabinets, and doors. **Comparison based on an independent check by Insight Retail Group Ltd of the published and available prices of comparable kitchens sold by Homebase, Wickes and B&Q during 2017, 2018 and 2019, based on their unique 8 unit model kitchen layout. Comparison excludes appliances, sinks, taps, installation, lighting and decorative enhancements. Kitchen specifications may vary. To verify the comparison please visit www.kitchen-compare.com.
Articles