10% off everything online for one week only | Offer ends 9 December
Help make the most of a small outdoor space
Small gardens can make a big impact. With some clever planning, you can transform the most compact outdoor space into something really special. You can even make it seem like you have more space than you actually do. Let us talk you through our ideas to make your small garden a big success.
We asked our B&Q Gardener of the year judges Matt Childs and Humaira Ikram, experts in the world of gardening, to share their tips and tricks with us. Find out more about them, and how you could become B&Q Gardener of the year, on our competition hub.
Matt and Humaira's top tips
Be patient and see how you use the garden. It's even more important in a small space to take your time and make sure that you are using the space to its full potential.
---
Choose a focus and start planning
When planning what you want to put in your garden, think about your favourite way to spend time in it. Once you have chosen your focus, design your space around it.
Careful, imaginative planning is key to the success of a small garden design. Start by drawing out the shape and boundaries of the plot, and then try out different designs to see what can be included, such as a patio, decking or small shed.
Matt and Humaira's top tips
Don't try to fit in too much! Think about your space and really simplify and focus on what you want. Too many ideas can become messy.
---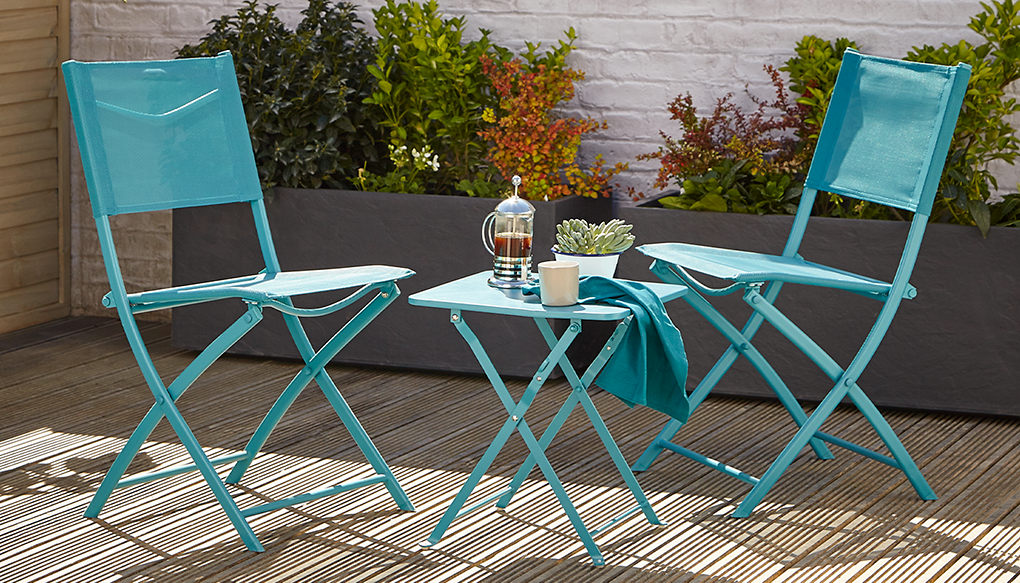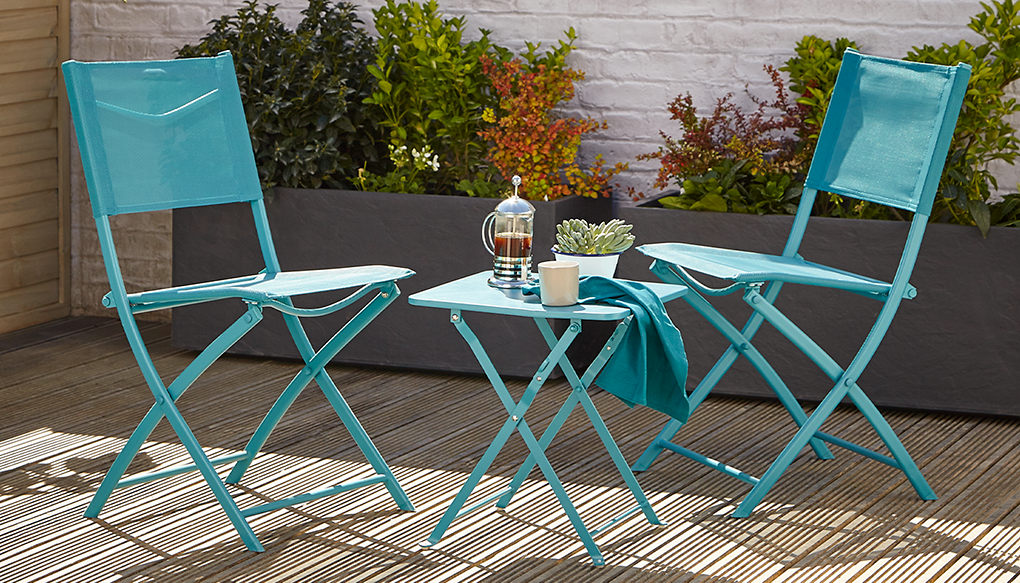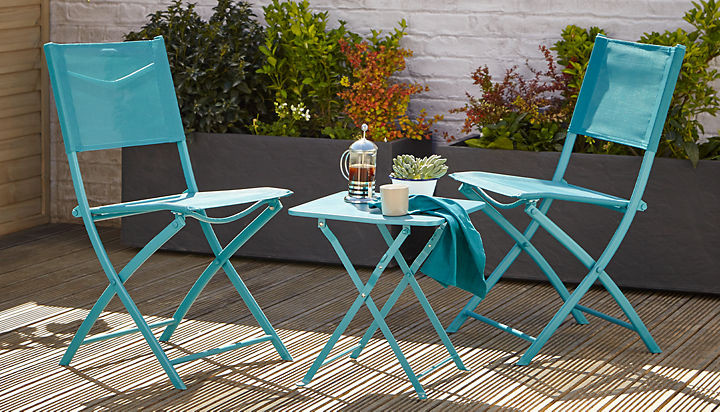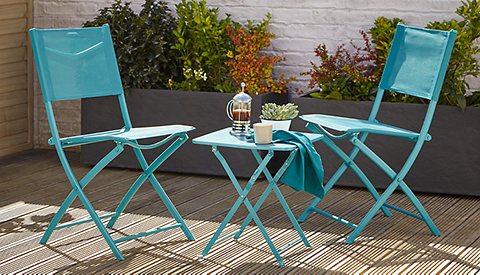 Create zones and add screening
Create different zones in your garden to make your space feel bigger and add interest into your design. Don't overdo it though, two to three sections is probably enough for a small garden. Create one large focus area and then work a smaller zone into your design. This will help you to enjoy your garden from different vantage points.
Screening is a clever way to divide up your outdoor space into these zones. It can also help hide essential, but uninspiring things that you might not want in plain sight.
Matt and Humaira's top tips
Living screens like hedges and planted trellises, can maximise space in a tight spot by creating green vistas and walls.
---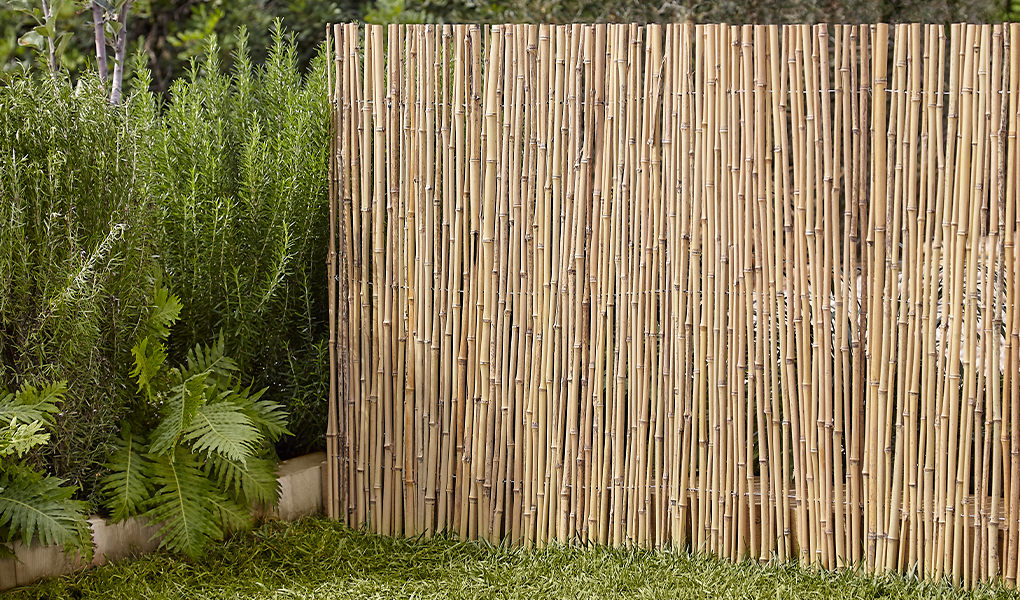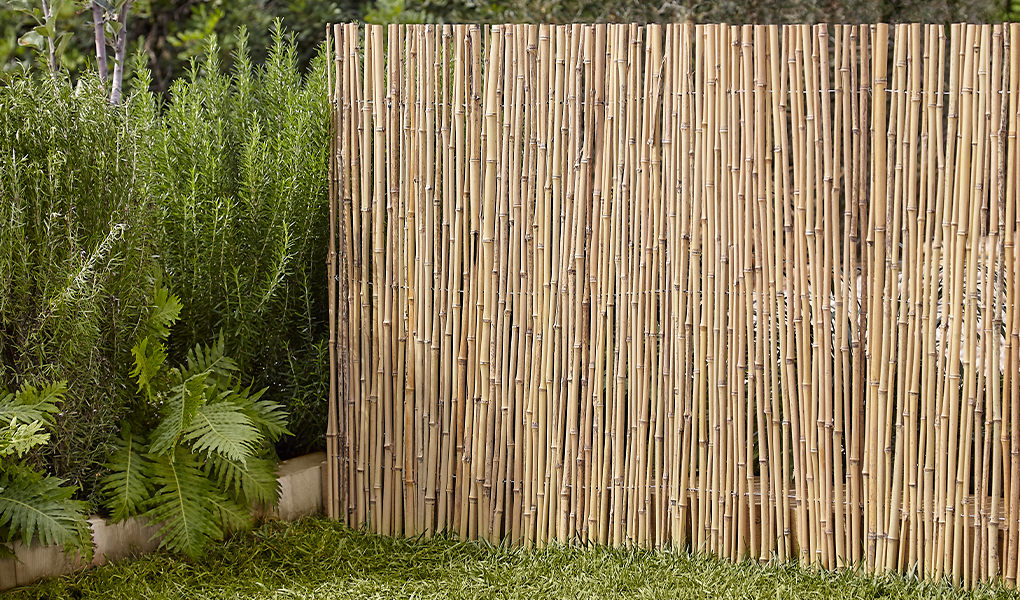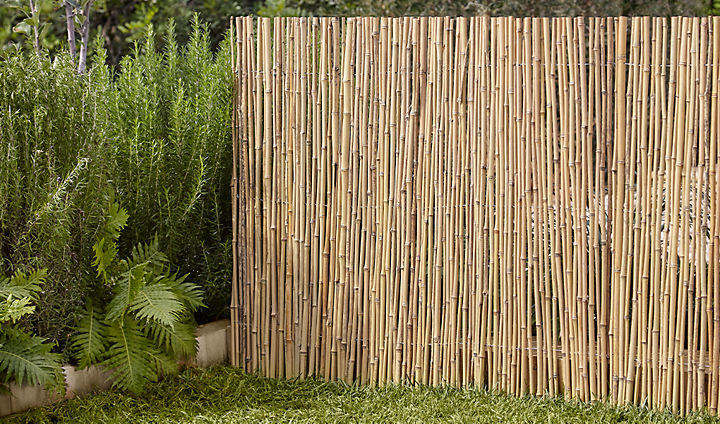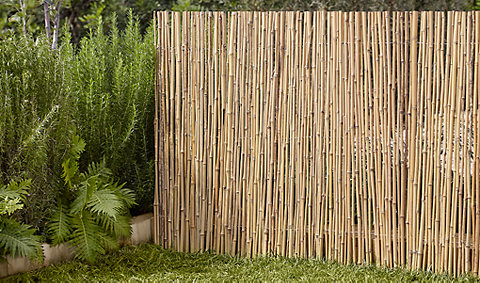 Build a decking area
Decking is great for a small garden and provides an ideal surface for a dining or relaxing area. It's soft underfoot compared to gravel or paving and timber decking can easily be refreshed with a lick of exterior paint. The way you lay your decking can also enhance your space. Laying deck boards lengthwise will elongate the area being decked, whereas laying them width wise, will widen it.
Matt and Humaira's top tips
It's really important when buying wooden products to make sure that the wood is from an FSC accredited source, which means the woodlands are sustainably managed.
---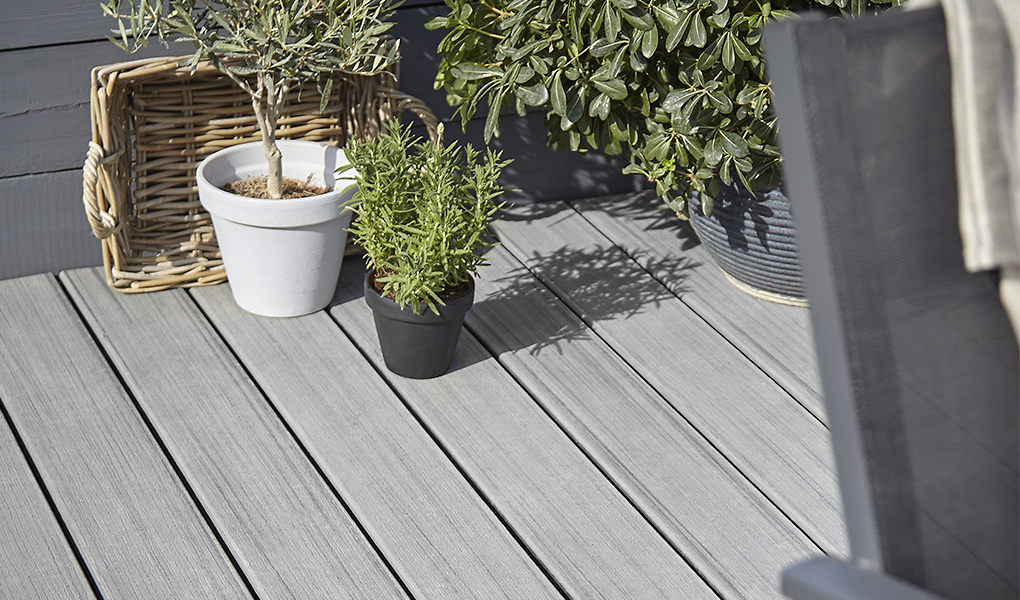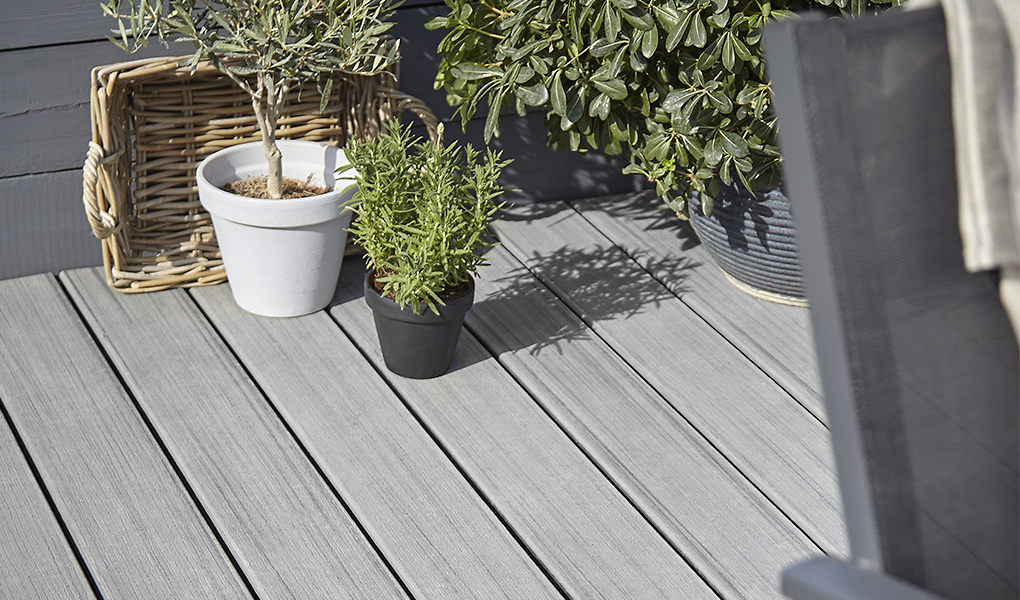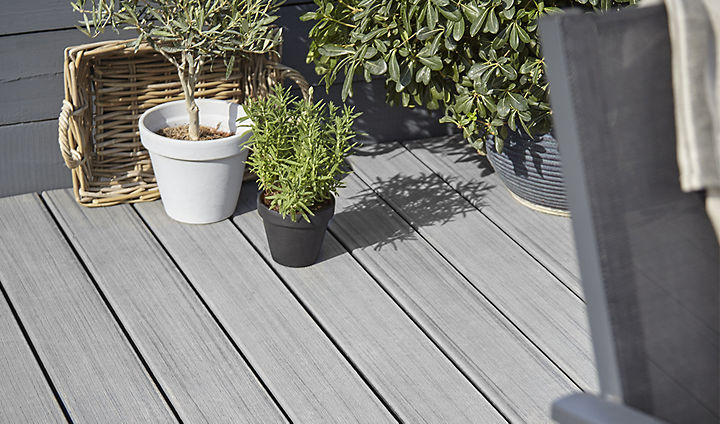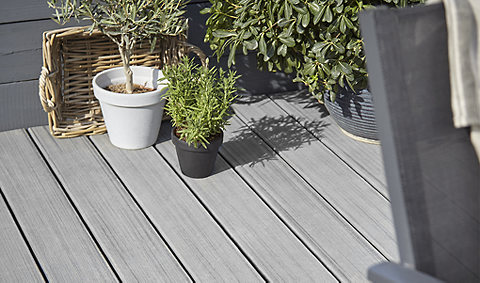 Store it away
Garden storage is really important in smaller gardens where space is at a premium and there are some great options, with designs especially for bikes, bins and more.
Multi-functional furniture is great to save space in a small area. You can get benches with storage underneath to tidy away garden paraphernalia or toys. In a small space use your walls and doors to add hooks and shelves to make the most of every inch you have.
Matt and Humaira's top tips
Always look at the space both horizontally and vertically. Green walls and green roofs on top of storage areas can add more plants to even the tightest of spaces.
---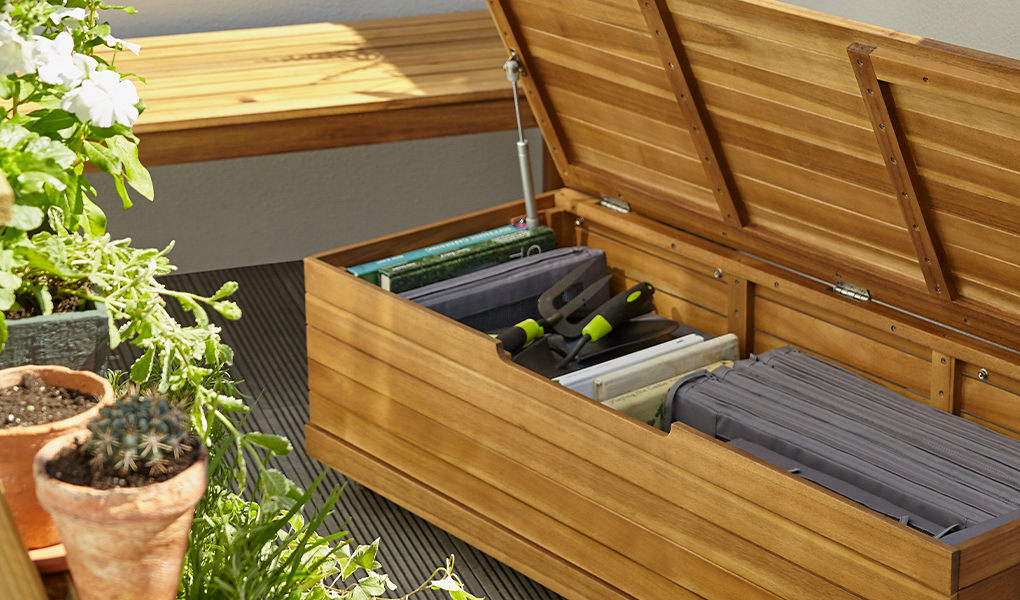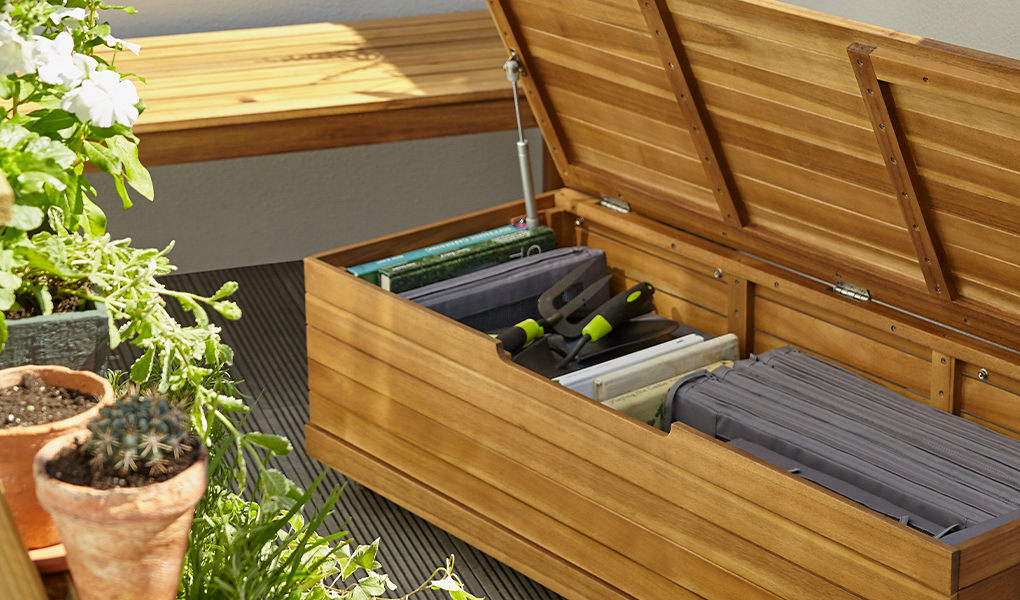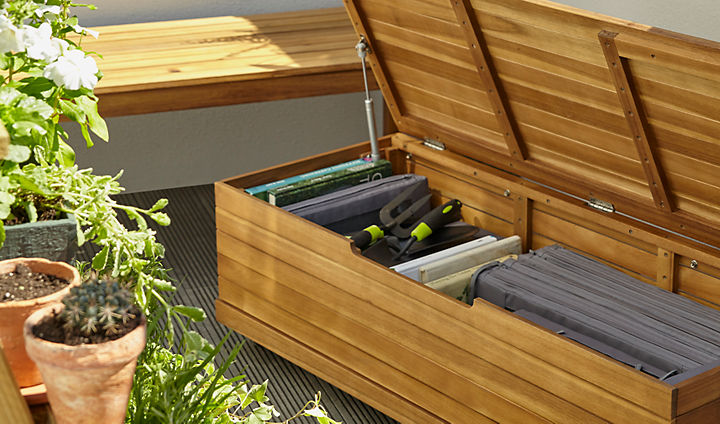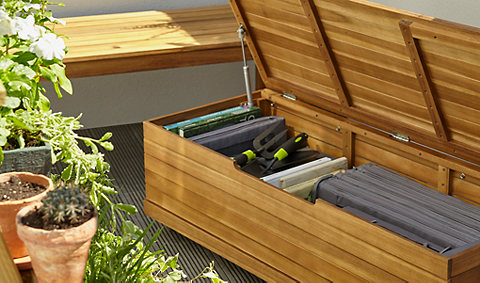 Choose space-saving garden furniture
You can also use clever space saving furniture to help you optimise space. If you like dining outdoors, opt for a bistro set with foldable table and chairs or stackable armchairs. Like to entertain? Make more room for friends and family with clever furniture that tucks away, folds and stacks.
Or for something less permanent, consider a hammock, outdoor floor cushion or a portable sun lounger.
Matt and Humaira's top tips
As well as space saving we would also always say buy things that will last. If you decide you no longer need things, you can resell rather than discard furniture. It's a win-win situation.
---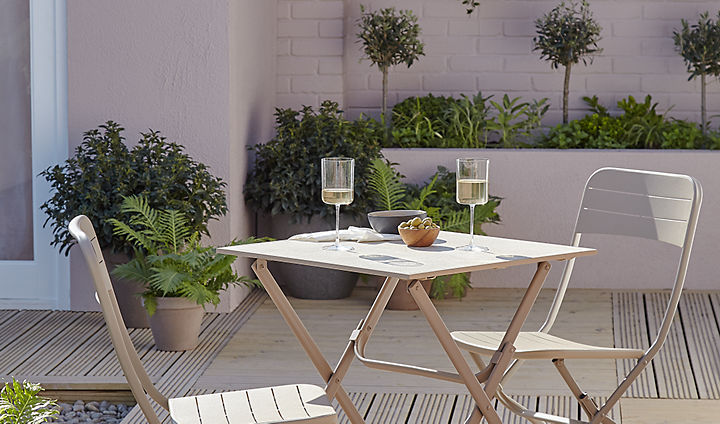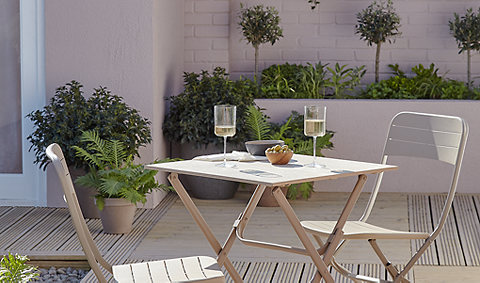 Settle on a colour theme
Create a unified look in a small space by choosing a colour scheme. Much like decorating indoors, complementary colours work well together across an outdoor space and can achieve balance.
Coordinate everything from sheds to fencing, walls to decking with exterior paints, stains and varnishes. Suitable for use on wood, metal and masonry, our range allows you to both personalise your space and protect the surfaces from the damaging effects of the weather.
Matt and Humaira's top tips
Don't forget that your plants, with the flowers, foliage and berries can also be part of your colour theme or they can be the restful green that pulls all of the parts of the garden together.
---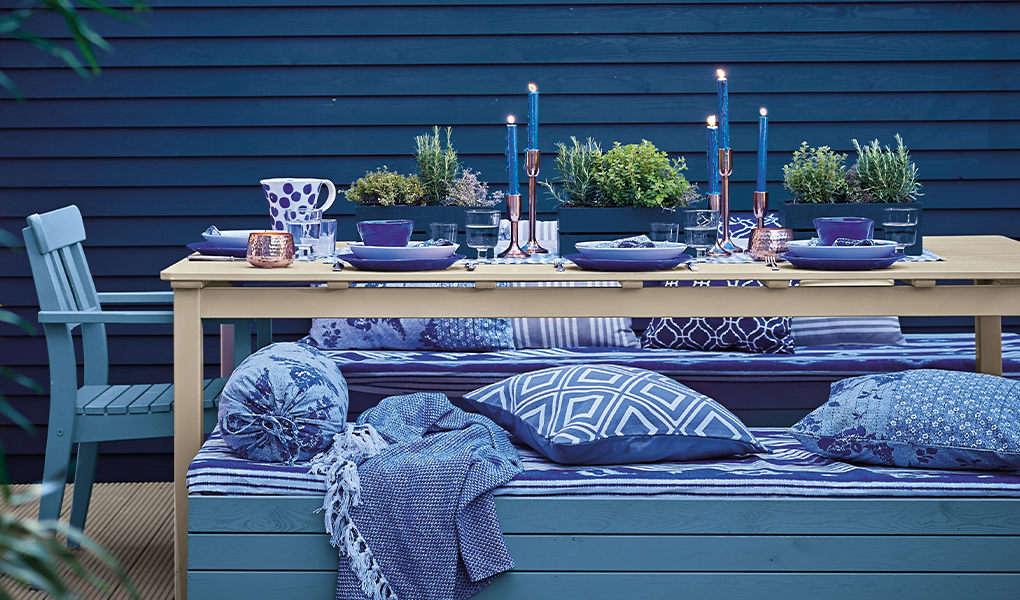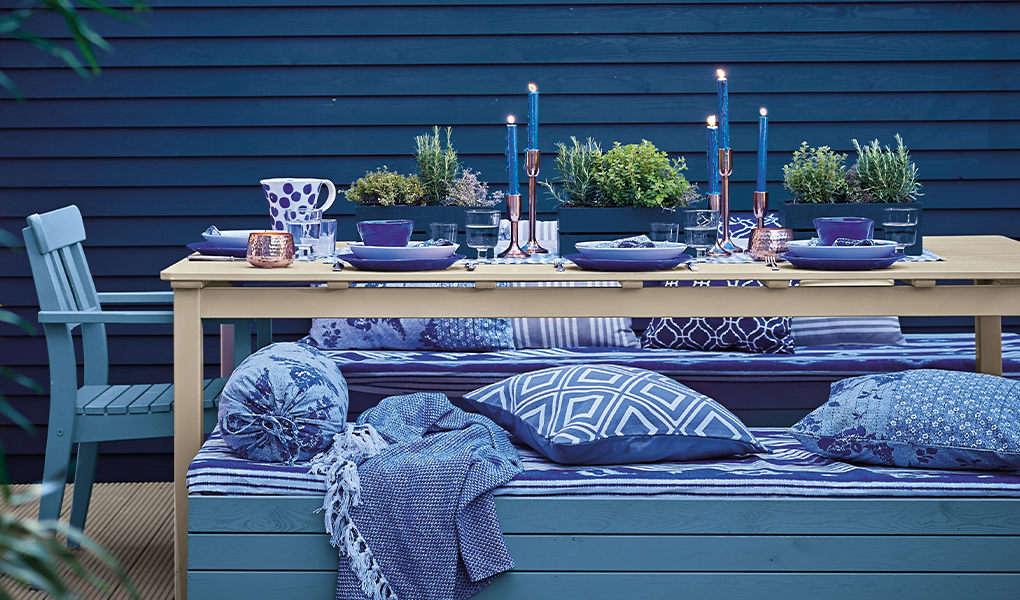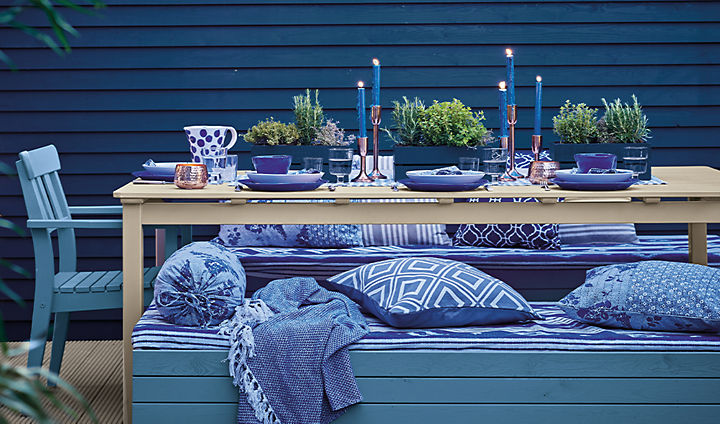 Introduce interest at different heights
Add some height into your small garden to make the most of all available space. This could be through planting in a variety of ways, such as hanging baskets, in raised beds, or climbing up trellis. By adding interest and colour off the ground, you create more floor space for everything else.
Matt and Humaira's top tips
Herb walls have become very popular in the last few years. You can create shelves or even pockets that you can plant into. You just have to make sure that you are watering as rainfall often isn't enough.
---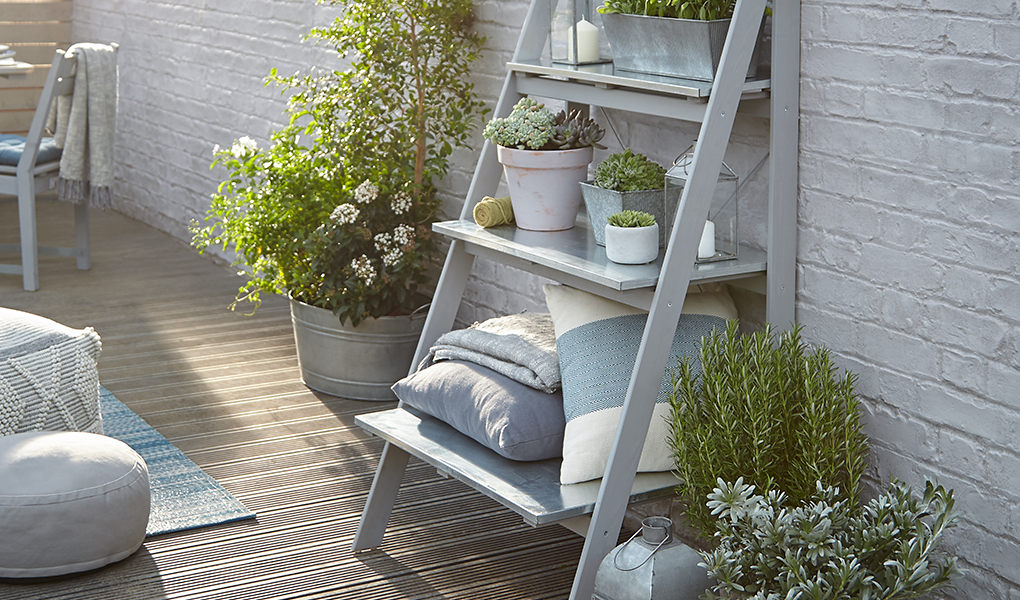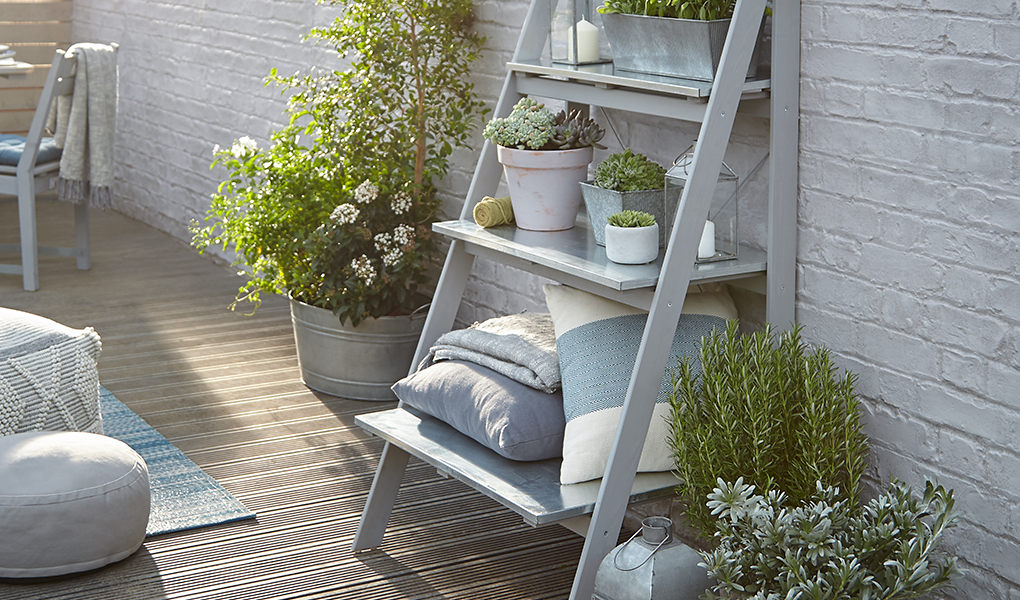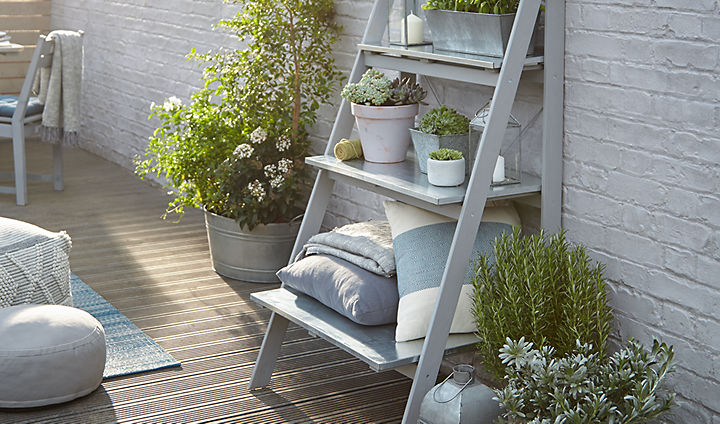 Find space for a barbecue or grill
We all love eating and entertaining outdoors, if the weather allows. There are some great compact options of BBQs which are ideal for smaller gardens. You may find that a BBQ on wheels is handy when you want to tidy things away or you could be even more savvy with your space by going for a firepit which can also be used as a grill. Multifunctional furniture will help you to make the most of every inch.
Matt and Humaira's top tips
Our top tip is look for a durable and easy to clean BBQ. We want to spend as much time eating and entertaining, and as little time cleaning up afterwards as possible.
---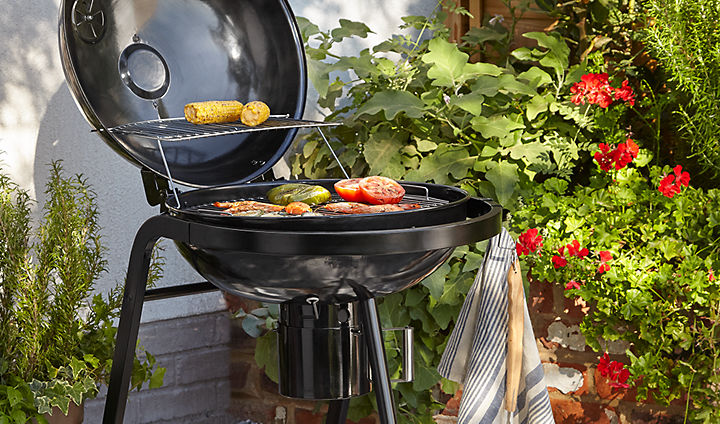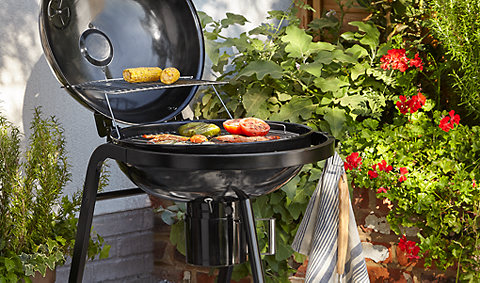 Get clever with plants
Plants in pots are a quick and easy way to add splashes of colour without losing big areas of garden to beds and borders. Move them out of the way when you need extra space and replant with your favourite annuals to keep the colour all year long.
If you do have beds and borders, make them work harder by 'layering' the plants. This is the method of staggering plants of decreasing height with different flowering seasons to keep beds colourful for longer. Start with the tallest plant at the back and work forwards.
At the back, plant climbing plants that can grow up a trellis (or a frame if the bed doesn't back onto a boundary). In the mid-section, plants like Mexican orange and Hydrangeas work really well. They fill up the central space and, if pruned at the end of the season, won't grow too tall. In the space left at the front, go for low-growing plants perhaps something fragrant and spreading like thyme or camomile.
Matt and Humaira's top tips
Think about maximum plant size. When choosing plants for a small garden, check the maximum growth size of the varieties you pick. Some trees and shrubs can grow to enormous sizes which could overcrowd a small garden quickly.
---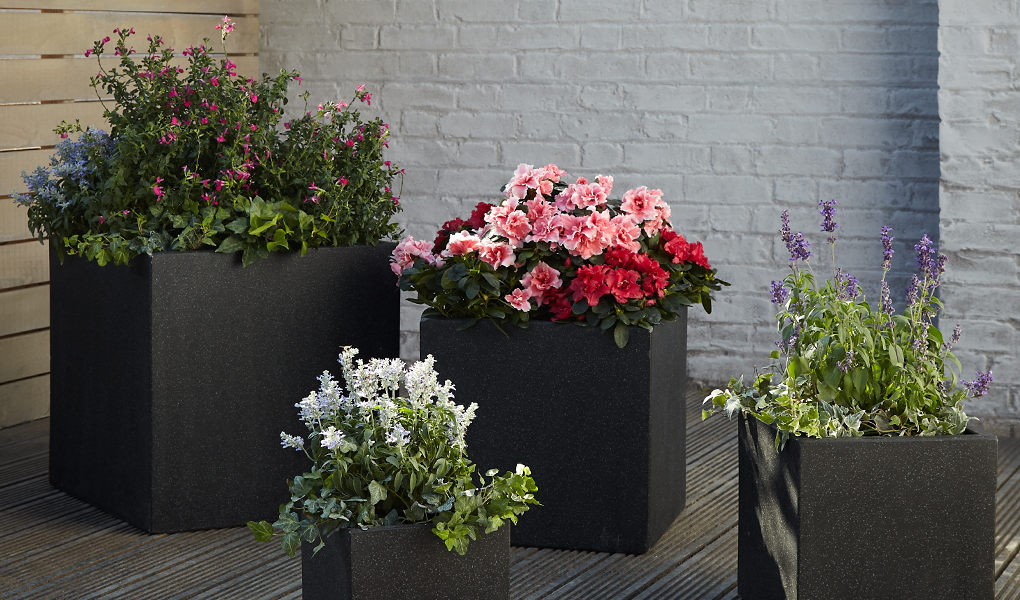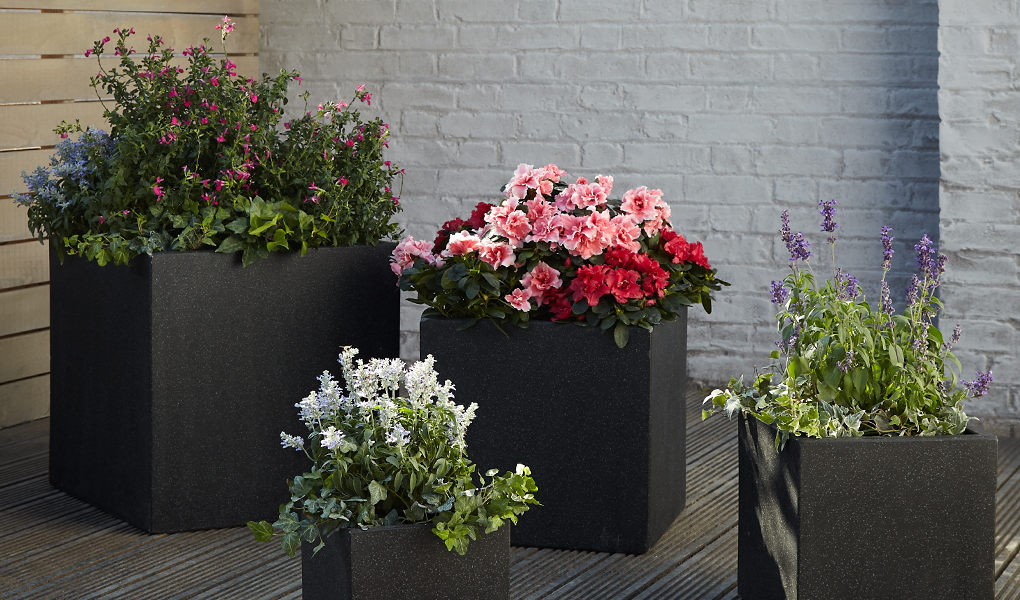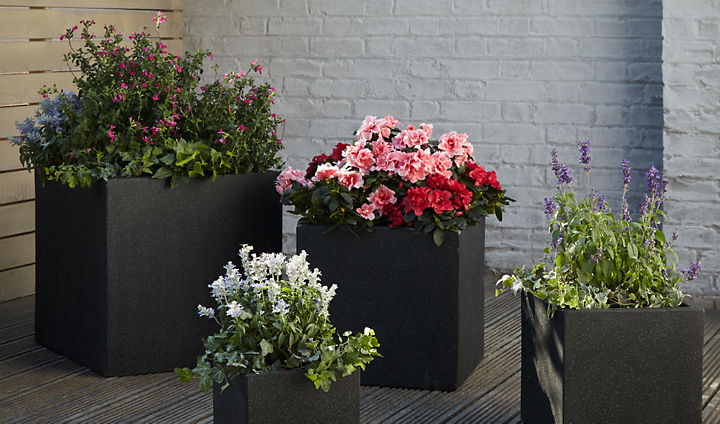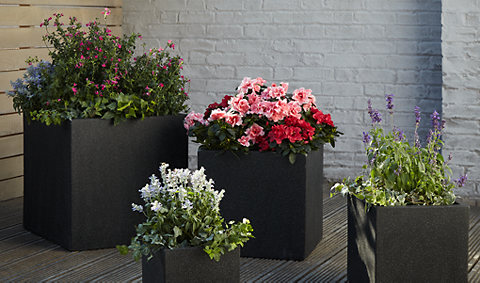 Let there be light
Light up your garden after dusk with garden lights. Wall lanterns are a simple way to illuminate your garden or eating area without taking up any floor space. They offer broad lighting coverage and our selection features both traditional and contemporary styles to suit all looks.
Alternatively, add some atmosphere and delicately light specific areas with garden string lights. Ideal for small gardens, they can create cosy, inviting spaces, when wrapped around parasols, fences, trees and more. Similarly, table lights and lanterns are portable, available as either battery or solar-powered and make a great centrepiece to outdoor dining tables.
Matt and Humaira's top tips
We need lights to be able to use a space in the evenings, and you should always make sure pathways and steps are lit well but the biggest tip is – to create welcoming and relaxing spaces, don't over-light an area.
---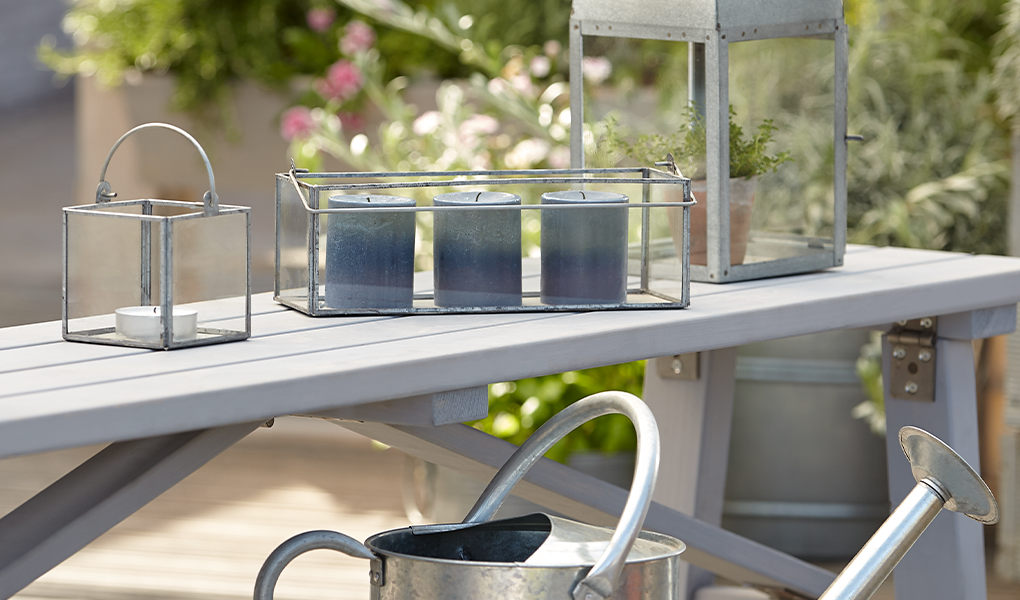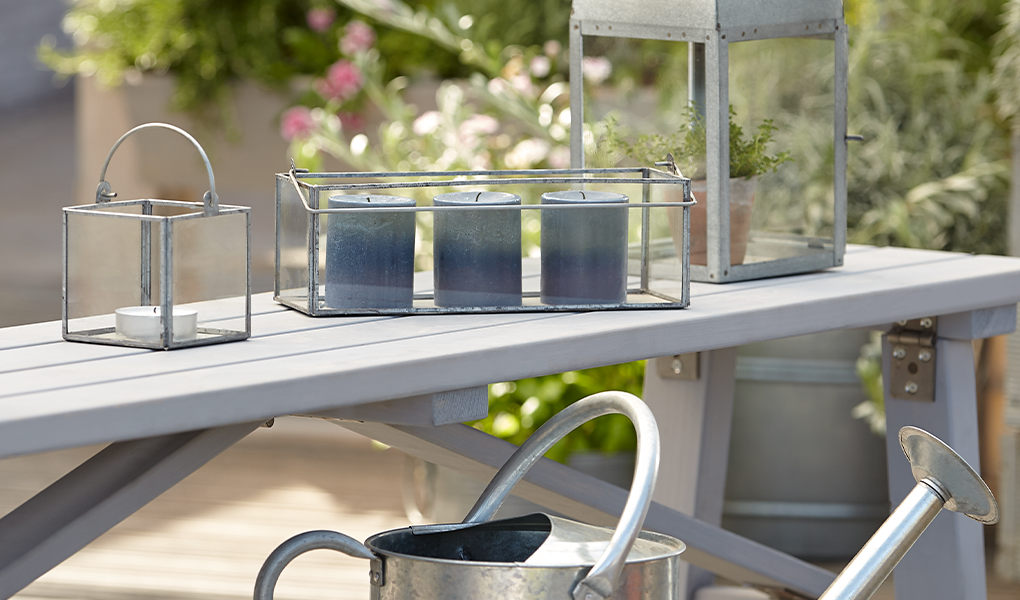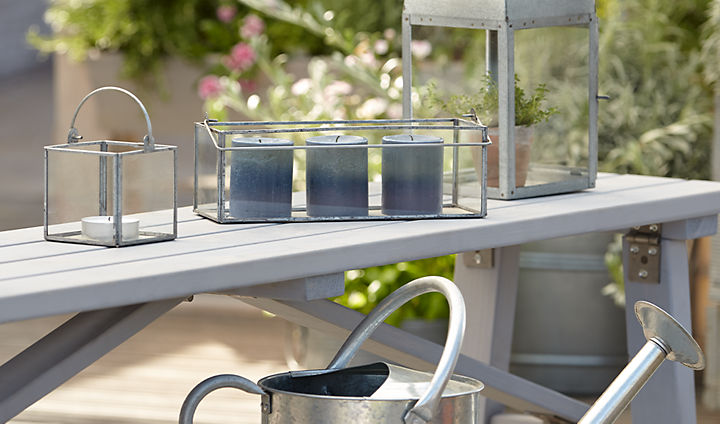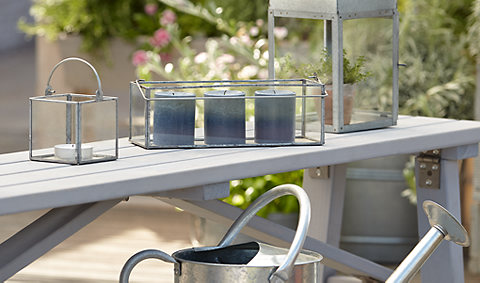 Grow your own fruit, vegetables & salad
Having a small garden doesn't mean you can't grow your own fruit and veg. Herbs, strawberries and trailing varieties of tomatoes all grow well in hanging baskets and don't take up any floor space. Or squeeze in small containers or grow bags to grow your own produce in a small space.
Matt and Humaira's top tips
In small spaces only grow things you want to eat! Also think about things that are not easy to buy. You can tailor your choices of herbs and other edibles to special plants that you really enjoy eating and therefore nurturing.
---