Pressure washer buying guide
Blast away outdoor dirt with a versatile power washer
Pressure washers make light work of many outdoor cleaning tasks; from cars to bikes, garden furniture to garden tools.
Let's start with the power. There are three ways to measure the power of a pressure washer:
The pressure the water will be pushed out at, measured in Bar
The rate of water flow, measured in litres per hour
The power of the pressure washer, measured in watts (W) if electric or Horsepower (Hp) if petrol
The most important measurements to consider are water pressure (the higher the bar, the more powerful the washer) and water flow. Concentrate on choosing a pressure washer, which has the best combination of the two for what you need to use it for.
Pressure & flow rate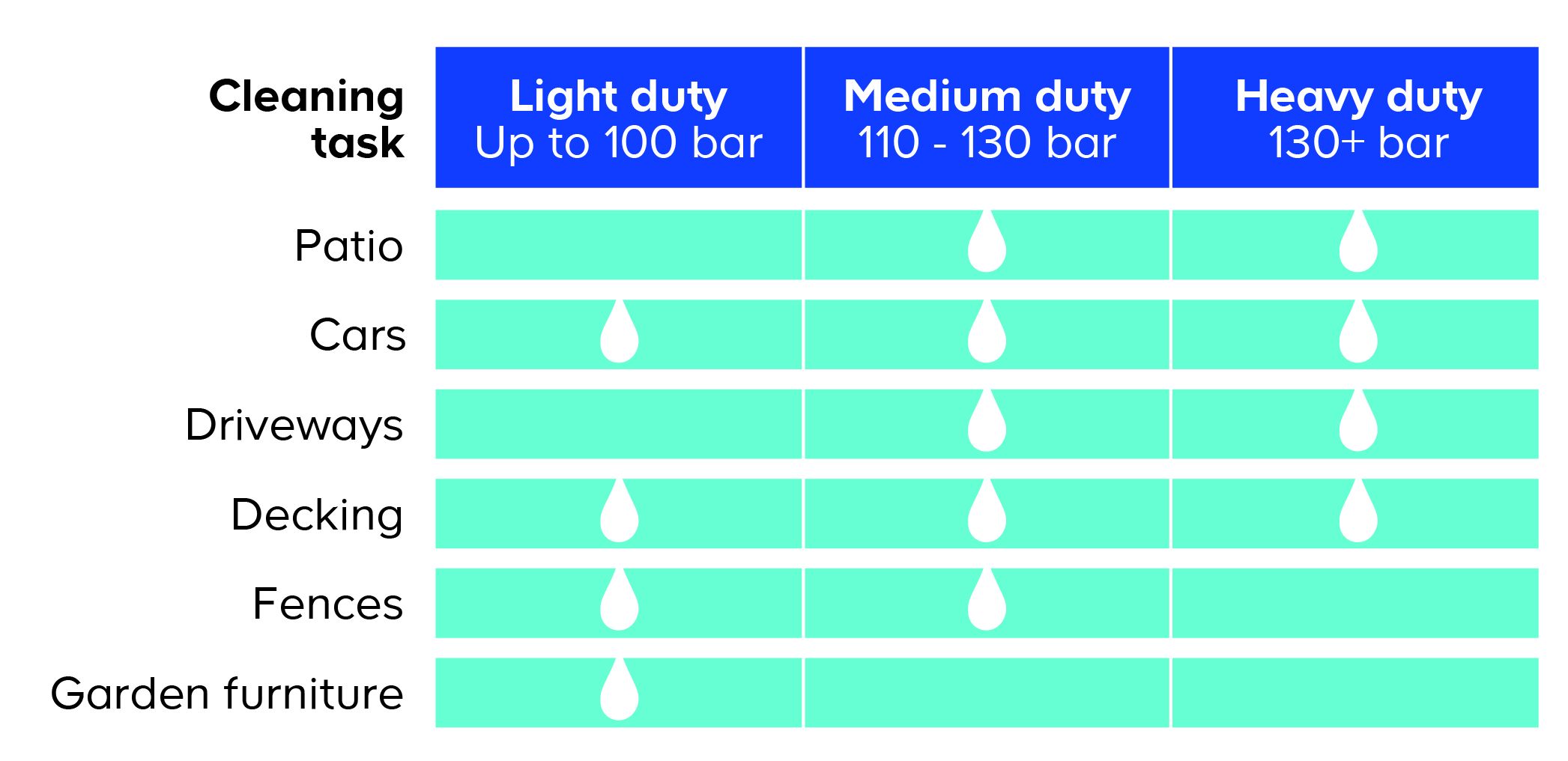 Don't forget that most pressure washers will allow you to vary the pressure, so a higher-pressure machine doesn't necessarily mean you can't use it for tasks requiring lower pressures.
Pressure washers are not recommended for use on brickwork or glass as the high pressure could cause damage to them, if you want to give your windows a thorough clean try a window vac instead.
Electric or petrol?
There are two choices for power supply – electric or petrol-powered pressure washers.
Electric pressure washers
Petrol pressure washers
Motor types
Pressure washers come in three different motor types. It's not something you need to be too concerned about, but it's good to know what you're buying.
Brush motor – These have brushes in constant contact with the rotating part of the motor. This leads to friction which reduces efficiency and causes increased wear & tear.
Universal motor - A simple motor which is compact and high speed but usually noisy and with a shorter life span.
Induction motor - A more complex motor which is quieter to run and has a longer life span.
Features
When choosing your pressure washer, look out for some of the important, helpful features you can get with your washer.
Auto start/stop
A useful feature to reduce water usage. Auto start/stop machines use the trigger on the spray gun to start and stop the flow of water, rather than using a switch on the main machine. You can move into the position where you want to begin working before you start using water – saving water and detergent.
Accessories
Wash brushes
Specialist brushes for washing cars and bikes can help you get the best finish and make light work of hub caps, wheel arches and more.
Suction hoses
These are a great way to reduce your home water usage, as they allow you to draw water from a water butt (via its tap) or from a static water source (like a bucket), rather than a tap. These are ideal for homes with a rainwater collector in place, or occasions when a tap may be a long way off. Using a suction hose to run your pressure washer with rainwater also means that you can continue to use your washer during a hosepipe ban.
Pressure washer detergents
Water detergents help to speed things up and ensure more efficient cleaning. They can also be invaluable when cleaning hard-to-remove substances, such as oil and grease from driveways or bicycles.
Power washer cleaners are usually applied under low pressure and rinsed under higher pressure, after being left to work for a short time. We offer a universal detergent or a more job specific selection, so find the right one for the surface you're cleaning.
Articles