Outdoor lighting buying guide
Light up your life
We know how easy it is to lose track of time when you are outside – garden get-togethers are notorious for lasting well into the evening. One minute you're nattering away in the sunshine, next thing you know, it's gotten so dark you can barely find your way back indoors.
Let the entertainment carry on after dusk with the help of some outdoor lighting. Not only will it help you move around safely by illuminating paths and changes in level, it can also create an inviting atmosphere for socialising and dining. Outdoor lights can be used to set the scene for any event, be that a romantic dinner on the balcony or a festival-style garden party to rival Glastonbury.
Whether you're on the hunt for a permanent solution, or ones that can be put up and taken down as and when you need them – let us shine some light on the best options for you.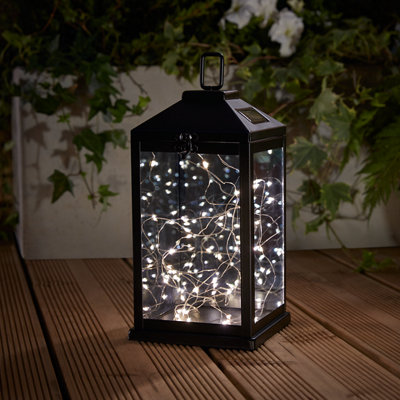 Before you buy
With so many uses for outdoor lighting, there are a few things to consider before buying.
What area do you want to light?
The area in need of lighting often determines what lighting type would work best in this space. So, if you're looking to light up a path for example, this would require navigational lighting that helps people stay safe and easily follow the route, rather than a decorative alternative that might only illuminate a portion of the path. So, have a think about your space and how you use it to shape your lighting design.
Do you want your lights to be portable?
When it comes to whether or not you can move your outdoor lighting around, power source plays a large part. Fixed, electrical lights need to be connected to the mains making them the ideal choice if you want lighting close to the house. Whereas candles, battery or solar-powered lighting have no restrictions and can be moved around as, and when, you like. So, if the area you want to light is a distance from your home, or you want to be able to adjust your lighting based on what you're doing, choose one of these options.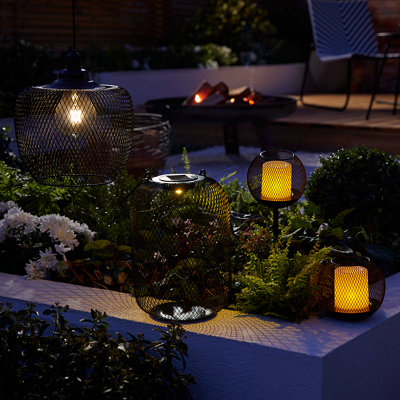 Power sources
Power source is a critical consideration when choosing the best outdoor lighting for you – most of lighting types come with more than one option.
Electrical lighting
Electrical lighting consistently burns brightly and for us long as you want it to. Being a permanent fixture, it has to be fixed into place and be properly fitted.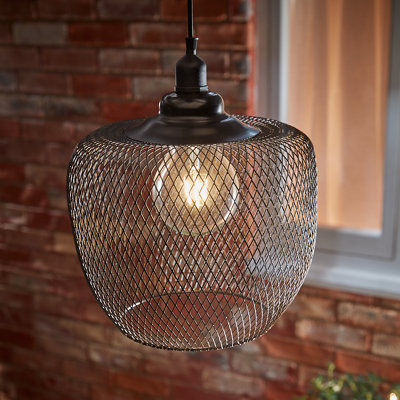 Solar-powered lighting
Solar-powered lights don't need any wiring as they store sunlight energy in a battery, which is activated once the sun goes down. Due to improvements in technology, solar lights are now more powerful and last longer than they once did, so there's no need to buy any to keep in reserve or worry about whether they'll last into the night.
Solar-powered batteries only need replacing if they stop working, so once you've bought a solar-powered light, simply place it wherever suits and forget about it.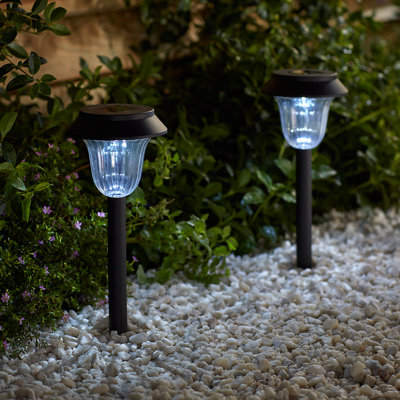 Battery-powered lighting
Like the solar-powered options, battery-powered lighting doesn't need wiring and is portable. However, unlike solar, it emits a consistent amount of light until the battery runs out.
The batteries will need to be replaced every so often, with this becoming more regular with bigger lighting options or if used more frequently. This can be costly, so if you're looking for larger options that will be used all the time, we recommend considering solar-powered or electric versions.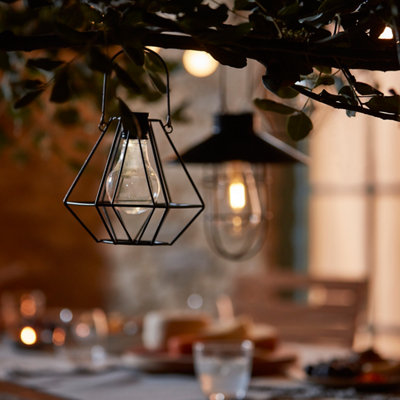 Types of outdoor lighting
There are two types of outdoor lighting: functional and atmospheric.
Functional lighting tends to be fixed in place, helping you and others navigate around your outdoor space - be it the front or back garden, driveway or any paths and alleyways. It can also illuminate particular areas, such as decked and paved surfaces.
Atmospheric lighting, on the other hand, is about creating ambience and mood – such as when you're hosting a party or eating al fresco at night.
Add one or both to your outdoor space to create the perfect lighting design for you.
Functional lighting
There are a number of options available when looking for functional lighting in your garden.
Wall lights
Used to enhance the exterior of your home as well as light up your garden, wall lights come in a wide range of designs – both traditional and modern to suit your look. Many are fitted with a passive infrared sensor (PIR), so it's activated only when motion is detected in a certain range (which can be as wide as eight metres). This ensures it's used efficiently to help save energy. These lights offer a choice of power supply - so opt for mains, solar or battery power depending on your set-up. See our collections for other coordinating lights.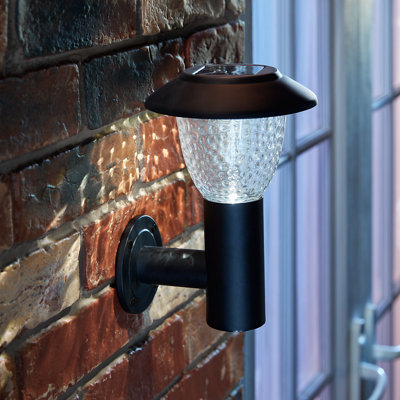 Security lights
Ideal for deterring intruders and allowing you to move safely around in the dark, most of our security lights have a passive infrared (PIR) sensor that's only activated when objects or people come into its field of view. This not only saves energy, but also ensures that neighbours and wildlife aren't disturbed by a constant beam of light.
When choosing your PIR security light, pay attention to the detection angle – this tells you how wide an area the sensor covers. Also, many of our sensor lights offer you the option of setting how long the light stays on once activated, as well as choosing the level of darkness at which the sensor starts detecting motion.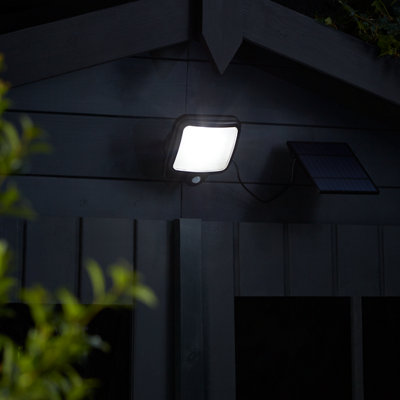 Post lights
Also known as bollards, post lights are great for navigating, popularly used to light paths, driveways and house entrances. Because of this, they commonly require mains power and to be fitted into place - although we offer a few solar-powered options. Ours range from 0.44 to 1.22 metres (m) in height. Look out for models with matching wall lights to create a coordinated design throughout your garden.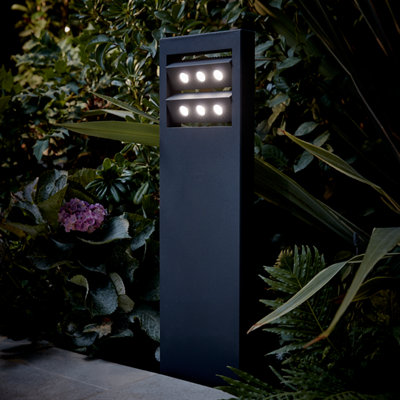 Stake lights
Light up your flowerbeds and paths with stake lights. Being solar-powered, these are quickly and easily fitted by simply pushing them into the ground with no wiring needed. Our range offers stake lights up to 56 centimetres (cm) tall and they're available individually or in multipacks. Add some interest with our colour-changing models. Complement with our mains-powered spotlight stake lights - perfect for highlighting a particular feature in your garden, such as a tree or structure.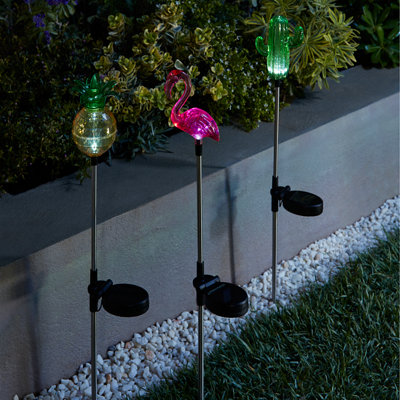 Decking lights
Decking lights work nicely with both ground-level and raised decks - offering much-needed guidance when moving up and down the steps of elevated terraces. If considering adding decking to your garden, stock up on decking lights before you begin construction as they need to be fitted into the boards before completion.
Our decking lights are available in multipacks of two, six and ten and can be solar or mains powered. Choose from different sizes and lighting colours - white and blue - to find the right ones for your decking.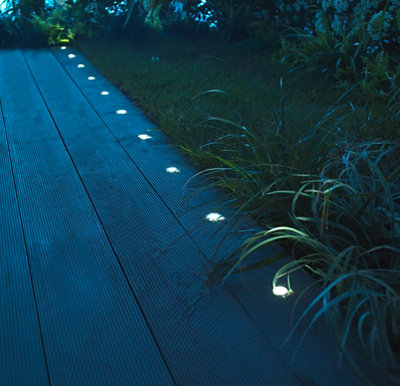 Atmospheric lighting
Set the mood with our atmospheric lighting options.
Lanterns
For an atmospheric and decorative lighting option, consider lanterns. Offered in an attractive range of colours, styles and materials, this portable option can be stood or hung creating lighting effects at varied heights for maximum impact. Choose between solar-powered, battery-powered or candles, with the lantern's clever design protecting the flame of the candle from any wind.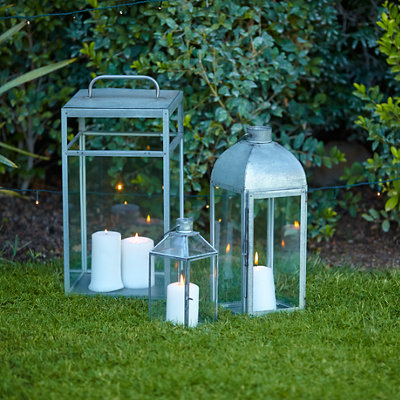 Table lights
For ambient lighting when you're dining al fresco, check out our range of table lights in stone, glass or metal. Ideal for creating an intimate and romantic mood, they mostly feature a candle or tea light - though look out for the odd solar-powered alternative. In a range of colours and styles, they coordinate with all sorts of garden looks and make a great centrepiece to table decorations.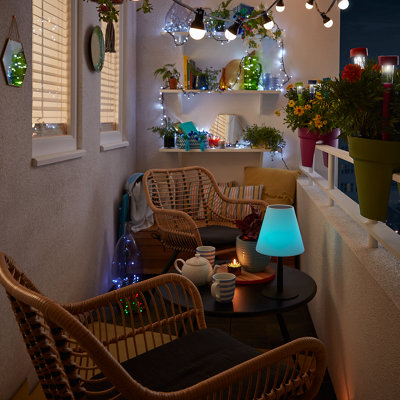 Party and string lighting
Similar to Christmas fairy lights, string lighting is ideal for spreading some party spirit. Available as either solar or battery powered, this decorative option comes with white, blue or multi-coloured bulbs and in a range of designs including eye-catching stars. Wrap around fences, parasols, trellis or handrails for lighting fun into the night.
Why not keep your lights securely hung with a decorative hanging basket bracket or external clips for a damage-free solution?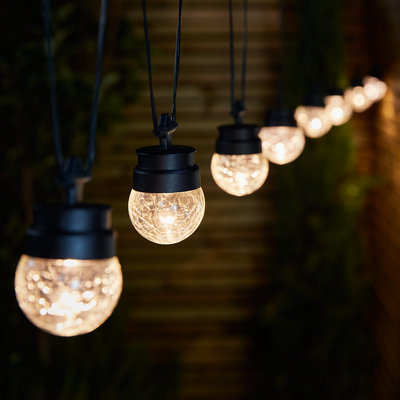 Features
There are a few features and technical specifications to look out for when shopping for garden lighting.
IP rating
Electrical, battery and solar-powered outdoor lights have an IP (Ingress Protection) rating. This refers to how well they're protected from intrusion of water and dirt.
The first digit of an IP rating refers to intrusion protection – whether you're protected from its moving parts, as well how protected the equipment is from foreign bodies:
0: No special protection.
1: Protection from a large part of the body, such as a hand (but no protection from deliberate access); from solid objects greater than 50mm in diameter.
2: Protection against fingers or other objects no greater than 80mm in length and 12mm in diameter.
3: Protection from entry by tools, wires etc. with a diameter of 2.5 mm or more.
4: Protection against solid bodies larger than 1mm (e.g. small tools).
5: Protected against dust that may harm equipment.
6: Totally dust-tight.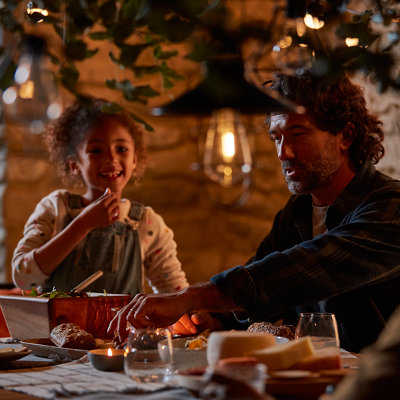 The second digit of an IP rating refers to protection against moisture:
0: No protection.
1: Protection against condensation.
2: Protection against water droplets deflected up to 15 degrees from vertical.
3: Protection against spray up to 60 degrees from vertical.
4: Protection against water spray from all directions.
5: Protection against low-pressure water jets (all directions).
6: Protection against string water jets and waves.
7: Protection against temporary immersion.
8: Protection against prolonged effects of immersion under pressure.
So, for example, a light with an IP rating of 68 will be very protected from both intrusion and moisture and would therefore be ideal for your garden pond.
A number replaced by an X indicates that the enclosure is not rated for that specification. Therefore, a light with a rating of X4 hasn't been rated for intrusion, but offers protection from water spray in any direction.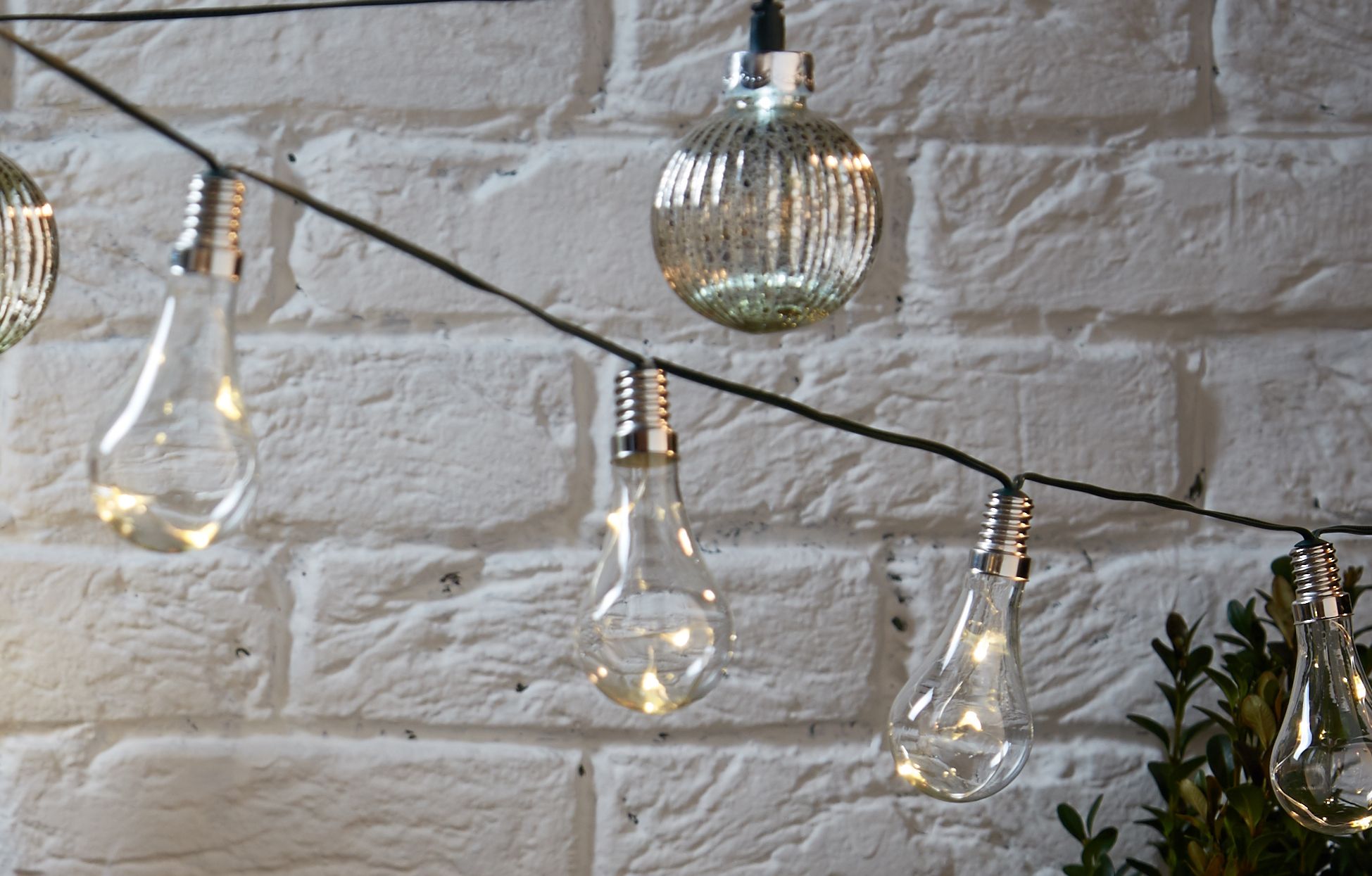 Bulbs
Before buying your electric, solar or battery-powered lighting, consider the type of bulbs they use.
Incandescent light bulbs
A cost effective light bulb, incandescent bulbs work by heating a wire filament until it's so hot that it glows with a visible light – this means that they take a few seconds to reach full brightness. They are the least energy efficient of all light bulbs and have shorter lifetimes than other options. Incandescent light bulbs can also get quite hot over time, so if you have children or pets make sure that you only choose lighting that is out of reach to avoid injury.
Halogen light bulbs
Halogen bulbs offer an energy saving of 20% compared to incandescent light bulbs and reach full brightness instantly. They're also better for the environment, but, like incandescent bulbs, they have a short lifetime and get hot when used for extended periods.
LED light bulbs
LED (Light Emitting Diode) bulbs save 90% more energy and will last 30% longer than incandescent light bulbs. They offer full brightness instantly so you don't have to wait for full illumination and aren't made from harmful materials so can be disposed of safely.
For more information, check out our buyer's guide to light bulbs for help choosing the right ones for your home.
Bulb wattage
Measured in watts (W).
This refers to the energy released by the bulb and therefore how bright it is – the higher the wattage, the brighter your outdoor lighting will be.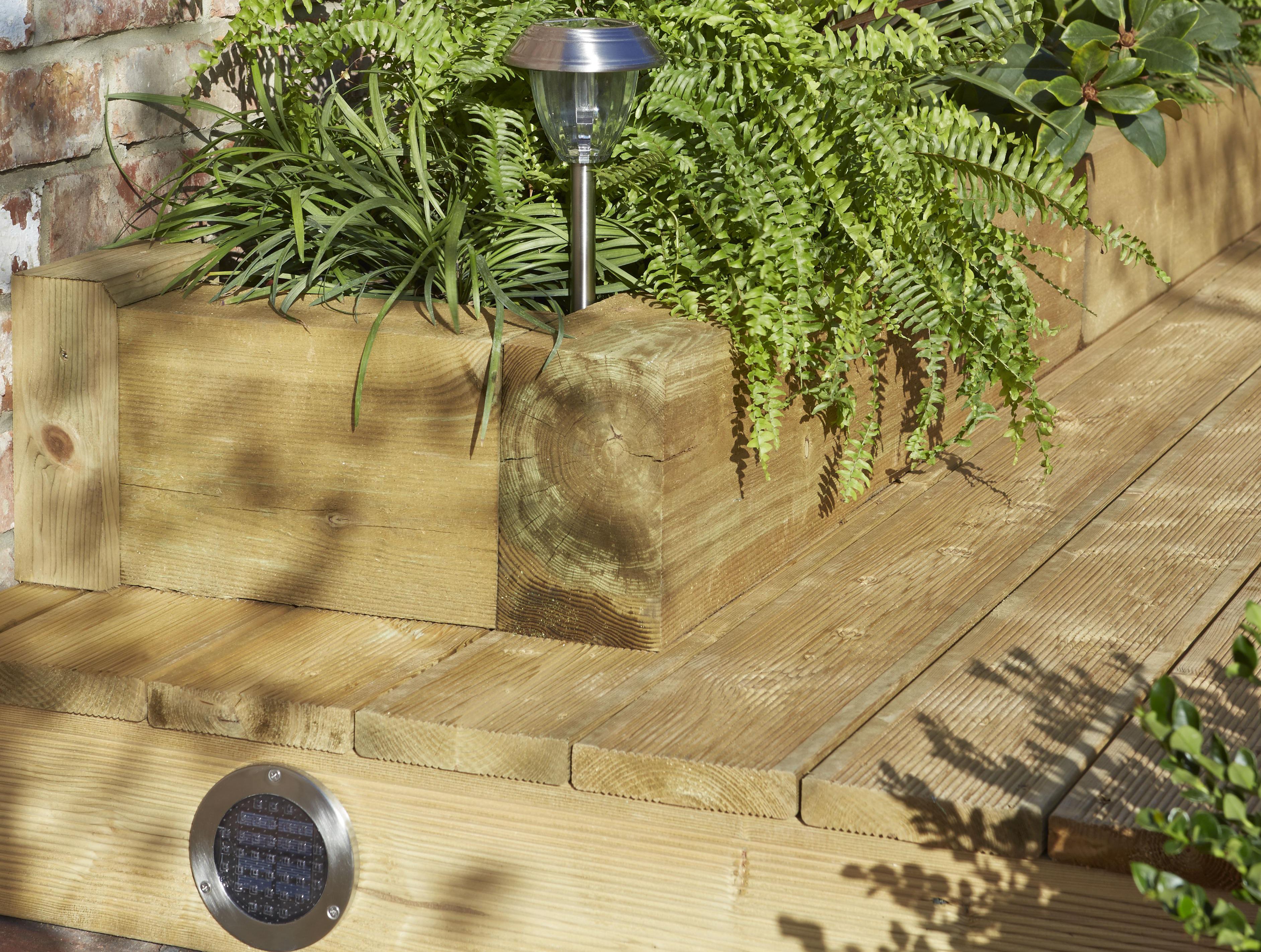 Articles