Simple steps to light bulb success
Standing in front of rows of light bulbs can seem overwhelming, and choosing the right one can be hit and miss if you don't have the right information.
So, whether you're working out if it's a BC or ES fitting or trying to compare watts with lumens, we can help you choose the right bulb and brighten up your home in no time.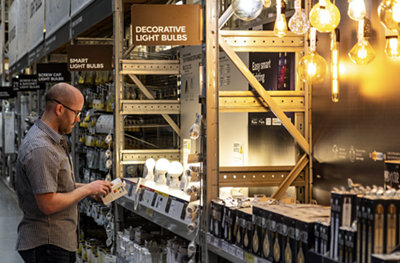 Know your cap fittings
Before you start shopping, the first thing you need to find out is what cap fitting you need.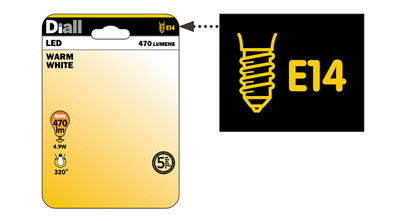 Either check the symbol on the packaging of your existing bulb if you have it or look at the base of the bulb.
This illustration on the left is an example of what you'll see on B&Q light bulb packaging to help you identify your cap fitting.
Below are the most common cap fittings, match your light bulb fitting up to find out which fitting you need.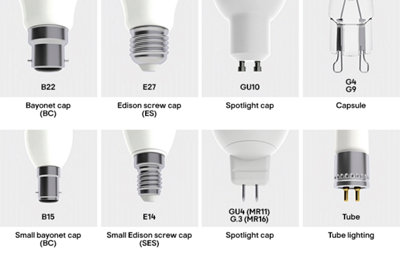 Cap converter
If you can't quite find the bulb to fit your cap fitting, try this bulb converter which allows you to use your E27 Edison Screw bulb in a B22 Bayonet Cap fitting. What a bright idea!
Know your bulb shapes
There are a few things to consider when choosing your bulb shape. Does the bulb need to be exactly the same shape as your old bulb? Some bulb replacements will be like-for-like, so if you're changing a spotlight, you will need a spotlight shaped bulb.
Other bulbs will suit a certain style of bulb, chandeliers for example, suit a candle shaped bulb.
Here's a guide to the most common bulb shapes you'll find around the home: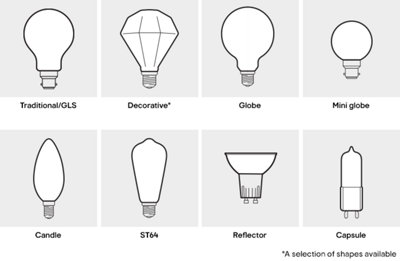 Replacing old bulbs
If you're replacing an old-style energy saving CFL spiral or stick shaped bulb, you can change these to a newer LED bulb. These new bulbs not only look better but they are more energy efficient too. Incandescent bulbs have largely been removed from the market, but don't worry if you need to replace one of those; you just need to find an equivalent option from the bulb technologies below.

Our range of decorative bulbs are available in a range of shapes from gorgeous diamonds to stunning globes and they look so good they do not need a light shade to hide under.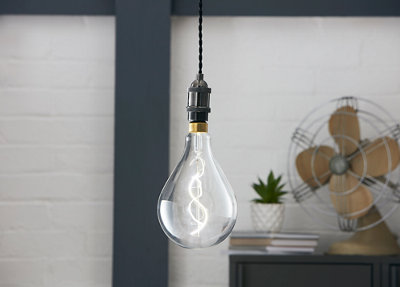 Know your bulb technology
There are three main types of light bulb technology to choose from at B&Q: halogen, LED and smart bulbs.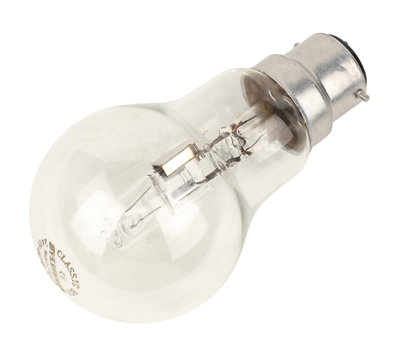 Halogen bulbs:
Halogen bulbs reach full brightness instantly, but have a shorter lifespan and higher running costs compared to LED bulbs.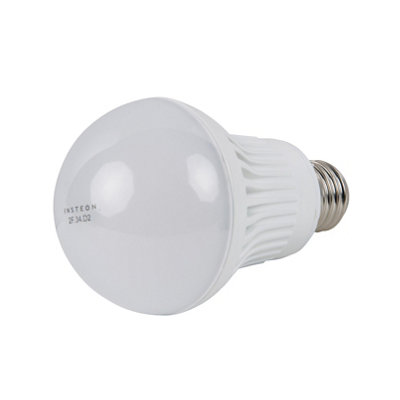 LED bulbs:
LED stands for Light-Emitting Diodes. LED bulbs cost less to run, produce less heat and last much longer than the older style bulbs. Don't be put off by the initial cost of LED bulbs, these bright lights will save you more in the long run due to their low energy consumption. Dimmable LED bulbs are available.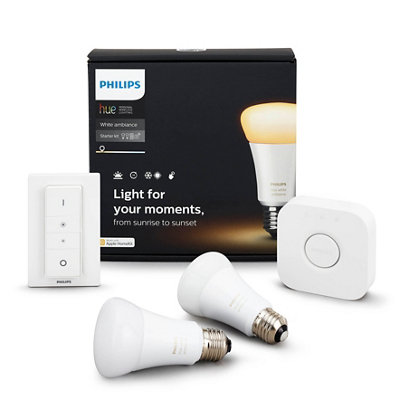 Smart LED bulbs:
Smart light bulbs allow you to control multiple lights remotely through an app on your smartphone or with your voice via a smart home assistant. Available in a range of colours and styles and boasting a wide range of smart features - these bulbs are LED bulbs and smart.
Find out more about what Philips Hue lighting can do for your home in this video:
Know your brightness
In the past, we shopped our light bulb brightness by watts, as this was the indication of brightness. Watts (W) is actually the measure of the bulb's power consumption and new bulbs use a lot less power to produce the same amount of light; good news for both the environment and your energy bill.
Now you'll need to think in terms of lumens (shown as 'lm') and forget about watts when looking at the brightness of a new bulb!
What is a lumen?
Lumens measure the light output from the bulb. The higher the number of lumens, the brighter the light.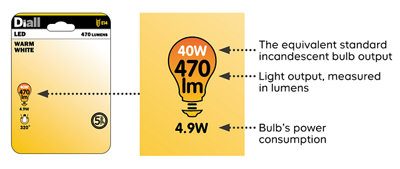 Use the table below to see the equivalent watt and lumen output for the old-style incandescent bulbs and compare these with the other types of energy-saving bulbs (LED, halogen and CFL). For example, a 10 watt LED bulb with a light output of 805 lumens has the brightness equivalent to an old 60 watt incandescent bulb.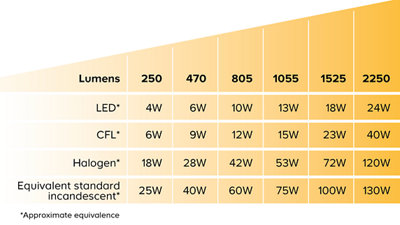 How many lumens you want from your bulb depends on the purpose of the light and whether you mainly need it for ambient (or general lighting), accent lighting or task lighting such as reading, cooking, work or studying. If you're not sure what's best for your light, check out our handy reference guide: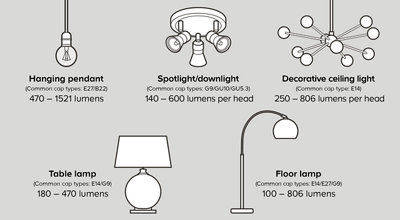 Know your colour temperature
When selecting your new bulbs, be sure to take the colour temperature into account, they'll help you to create different moods or perform different tasks.
What is a Kelvin?
In short, Kelvins are the measure of how cool or warm the light is and the Kelvin scale measures the colour temperature of the light. The higher the number of Kelvins (shown as K), the whiter the light will be.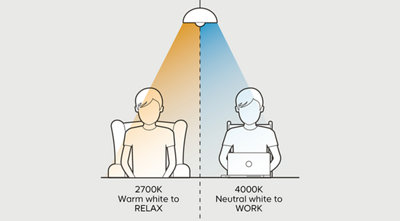 Low Kelvins generate warmer, cosier lights – perfect for your living room, dining room, bedroom and hallway.
High Kelvins give more energising neutral white light to create an energising, bright, vibrant and crisp environment – perfect for your kitchen, bathroom, study and workshop.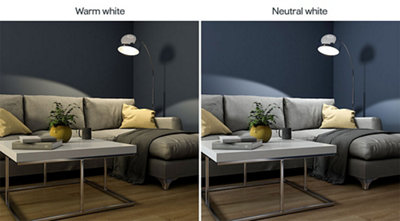 When you are in a B&Q store, our Diall light bulbs have yellow packaging to indicate warm light, and blue for neutral light. On our decorative bulbs, you'll find this information on the back of the box.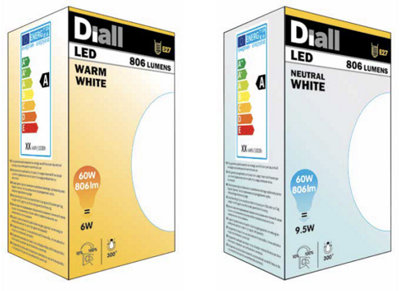 Know your style
Our decorative bulbs will enhance your decor with a range of styles and shapes, from gorgeous diamonds to stunning globes. Using a combination of LED technology and vintage design, they can be easily fitted to replace ordinary bulbs with the same cap fitting.
LED filament bulbs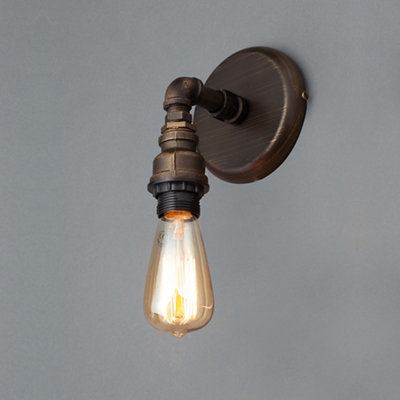 LED filament bulbs look good off and on. LED bulbs are often opaque or misted in colour, which can also be described as 'pearl' or 'opal'. These can make the bulb look quite plain, but now there are new models available that are completely transparent.
LED filament bulbs are designed to look more like a traditional light bulb, complete with its distinctive yellow LED filaments for that extra character that reminds us of the original Edison filament; beautifully stylish but without the high running costs and short-life span of their predecessors.
These bulbs give off a warm inviting golden soft glow when used in table or wall lamps or as accent lights, perfect for creating a cosy atmosphere in sitting rooms or bedrooms.
Clear glass or amber glass?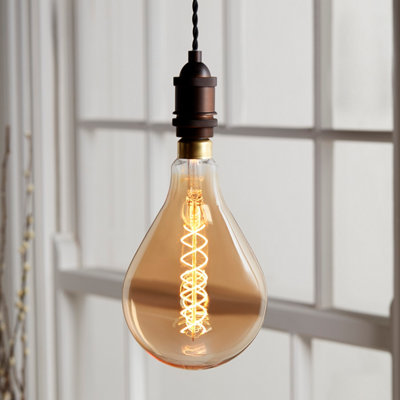 When it comes to choosing an LED filament bulb, you also have the option of clear glass or amber coloured glass. They both show off the detail of their LED filaments with the amber glass option giving a much warmer colour temperature and the look of a retro vintage bulb.
Both are available in a wide range of shapes, and come in dimmable or non-dimmable options, but amber bulbs create a warm white light, whilst clear bulbs can be neutral as well as warm.
More about bulbs
Here's a few extra tips and features to consider when selecting your new bulbs:
Beam angles
Selecting the correct beam angle of any light bulb is also an important factor when buying a bulb.
A low beam angle gives directional light that highlights an area or object. Low beam angle lights work better in smaller rooms when fitted closer together.
A wide beam angle will give non-directional light. Bright lights with wider beam angles work better in larger rooms.
The material of the bulb can also have an impact on its beam angle. Plastic bulbs, for example, can have a lower beam angle compared to glass bulbs.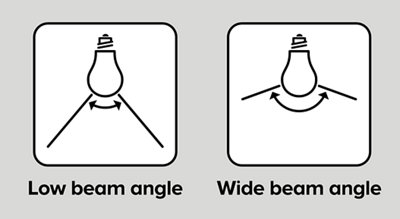 Smart bulbs
Also included within our smart LED light bulb range is an exciting set of bulbs with clever features including built-in speaker, Wi-Fi repeaters, motion sensors and a plant friendly growing bulb that provides an efficient light wavelength to improve photosynthesis and encourage healthy growth for indoor plants.
Look for these symbols on the packaging in store to choose what you want your bulb to do: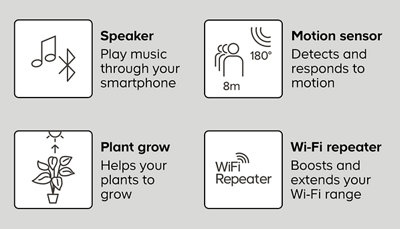 Dimmable LED bulbs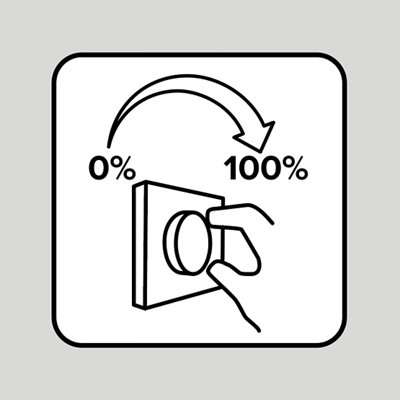 Not all LED bulbs are designed to be dimmed and they are available in dimmable and non-dimmable versions. If you want to use a dimmer switch, make sure you choose LED bulbs that can be dimmed, this is indicated on the packaging with the symbol illustrated here.
In many cases, you can use your existing dimmer switch, just remove your current bulbs and replace it with dimmable LED bulbs. If your replacement LED bulbs flicker or you can hear a buzzing noise, you will probably need to change your dimmer switch to one that is designed to work with low wattage dimmable LED bulbs. This is because the older style dimmer switches cannot 'read' the low loading of an LED bulb.
It's good to know however that dimmable LED bulbs can be used either with or without a dimmer switch.
Switch controlled bulbs
These switch-controlled bulbs work with your existing switch, so there's no need to change the electrical installation, you just change the bulb. There are three bulbs with different functionality built-in to choose from:
Manage the brightness of your light with your existing switch using our 2-in-1 Click & Change step dimming bulb. With just a click of your switch, you can go from 30% brightness to 100% light.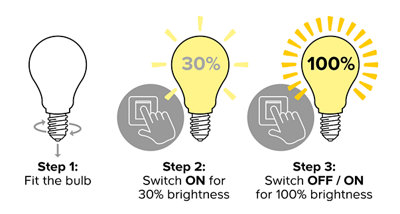 Manage the colour temperature of your light with your existing switch and our 2-in-1 Click & Change colour changing temperature bulb. Click twice on your light switch to take you from a relaxing warm white of 2700K to a neutral white of 4000K for reading or work tasks.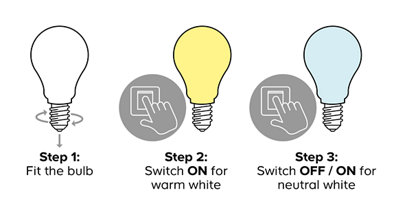 Change the brightness and colour temperature of your light with your existing switch and our Click & Change 3-in-1 bulb. Click twice on your light switch to take you from a relaxing 30% bright warm white to a 100% bright neutral white for reading or work tasks.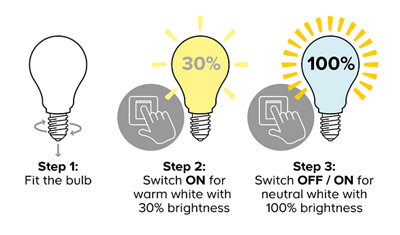 Remote-controlled bulbs
Enjoy multiple light options with our remote-controlled light bulbs. Change the colour temperature, brightness and the colour of your light to create your perfect atmosphere.
The colour wheel on the remote control gives you the freedom to adjust the colour to suit your mood. Easy to understand icons make it simple to use and all you have to do to get started is fit your lights and go.

Articles