Kitchen sink buying guide
Practical and stylish sinks to complement your kitchen
Sinks see more than their fair share of use in a busy kitchen. So it's worth doing your research to know what options are available and which ones will work best for your needs. When choosing your sink, start by considering the following:
Is the sink being bought as part of a whole kitchen project, or just to replace a current sink? If you're replacing your sink, you'll need to consider the existing cut-out size to make sure your new sink fits
If you're buying a sink as part of a whole new kitchen, you'll need to consider the size of the kitchen and what you'll use the sink for when determining your sink size. If you frequently use large pans or baking trays, it might be worth getting a sink with an extra wide or extra deep bowl – or even a 1½ / double bowl
If you don't have a dishwasher in your kitchen, make sure you get a sink with a built-in drainer, so you have enough space to let items dry after you hand wash them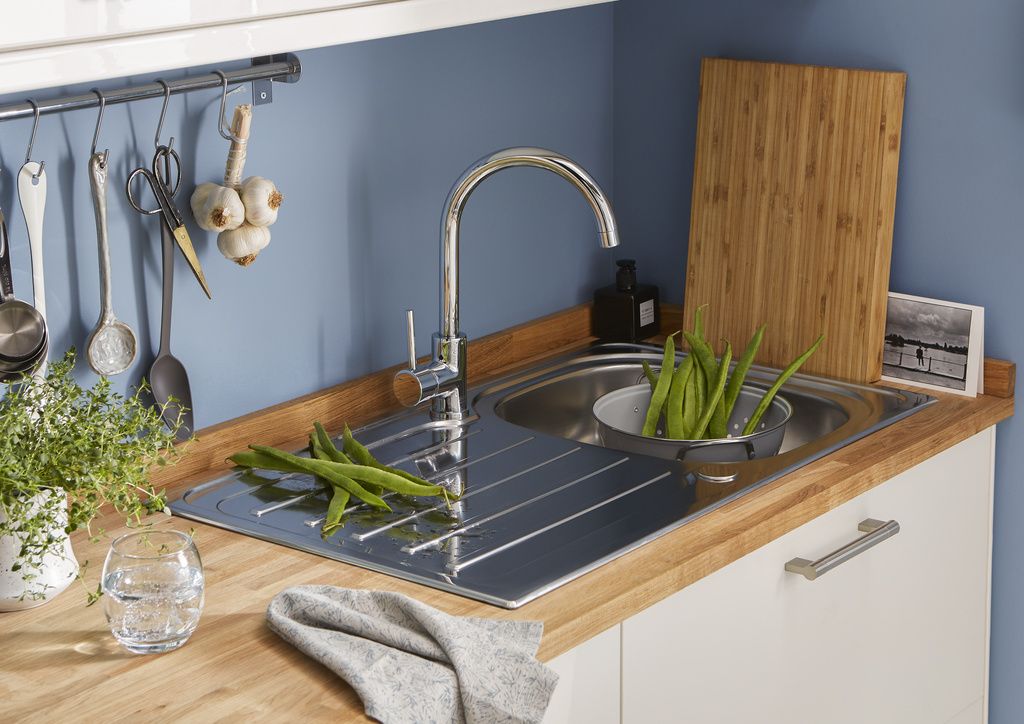 Finally, you'll need to decide what material you want your sink to be made from. Each material has its own benefits as well as cost. We've ordered them here approximately from least to most expensive:
Stainless steel:
Lightweight, thin, yet durable, stainless steel sinks offer great value for money. Coordinate with your kitchen tap and appliances to create a stylish and sleek look in the kitchen.
Linen stainless steel:
Linen stainless-steel sinks have all the benefits of stainless-steel sinks, but with a textured microdot or honeycomb surface signs of wear like scratches are less visible.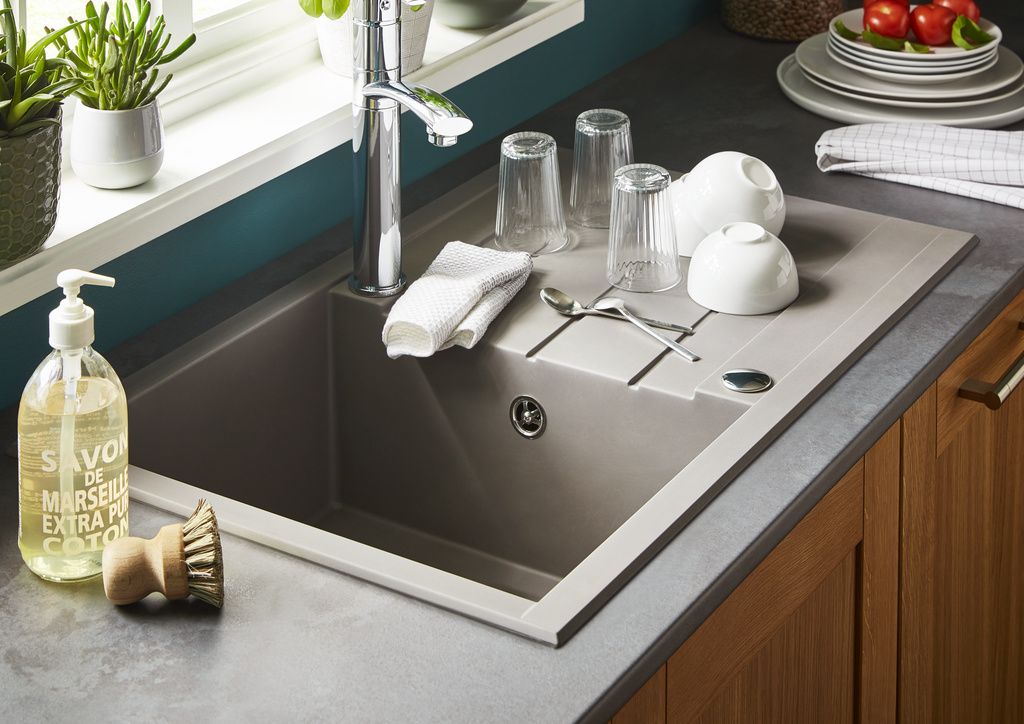 Resin:
Resin sinks are lightweight, and look similar to granite / quartz sinks, but with a thinner profile and smaller price tag.
Glass:
Our toughened glass sinks combine a glass frame with a steel bowl to create a stylish design at an affordable price.
Composite quartz / granite:
Composite quartz sinks are some of the most solid and robust sinks available with a superior resistance to heat and scratches. Combining their hardwearing build with a stylish design, they offer fantastic value for money and superior resistance for those willing to invest in their kitchens.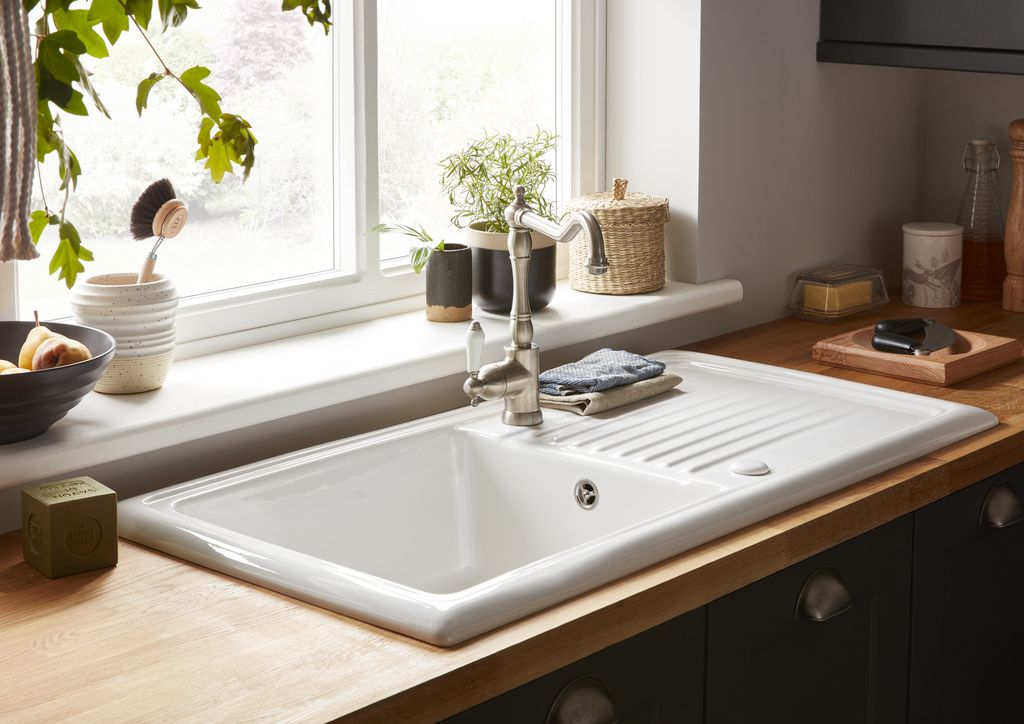 Ceramic:
Handcrafted ceramic sinks are ideal for traditional style kitchens, combining a silky feel and great craftsmanship to create an impressive centrepiece. The high attention to detail in the manufacturing process and the natural resilience of the material used mean ceramic sinks offer lasting resistance and durability to everyday kitchen use as they don't stain easily.
How to care for and maintain your sink
Your sink is a heavy traffic zone in the kitchen so it's important to take care of it to make sure it looks better for longer. The methods you should use to care for and maintain your kitchen sink depend heavily on the material of the sink itself.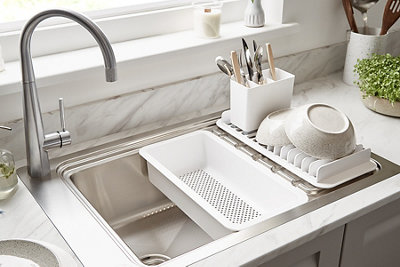 Stainless steel / linen stainless-steel sinks
Use mild, non-abrasive cleaning agents
Use warm soapy water and a soft damp cloth
Wipe dry with a clean cloth
Do not use solvents, scourers, abrasives, bleach, acids, steel wool pads, strong detergents, aggressive chemical cleaners or solvent-type cleaning solutions
Hard water may result in brown or rust coloured stains over time. If these appear, dry your sink with a towel after each use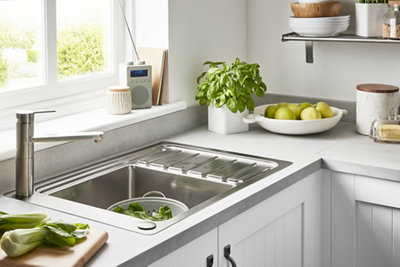 Resin, glass, ceramic & composite quartz sinks
Use warm soapy water and a soft damp cloth
Wipe dry with a clean cloth
For stubborn stains, use a mild non-scratch formula cleaner and rinse well
Do not use solvents, scourers, abrasives, bleach, acids, steel wool pads, strong detergents, aggressive chemical cleaners or solvent-type cleaning solutions
Hard water may result in white limescale marks over time. If these appear, dry your sink with a towel after each use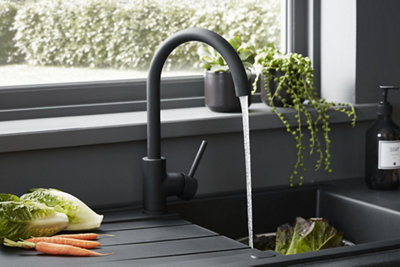 Remember
Avoid dropping objects into the sink where possible to reduce the likelihood of damage
Articles