How to put up curtains & blinds
Refresh your room with new curtains or a blind
Curtains and blinds block out light as well as giving you more privacy. But they can also be a distinctive design feature - introducing colour, pattern and texture into any room in your home. Also, curtain tracks and poles come in loads of different designs to suit every style of interior. But if you're going for ready-made curtains it's a good idea to choose them before you buy your track or pole, as you might find they're designed to be hung from a particular type of fitting. There are a few ways to hang your curtains or blinds depending on the type, so we'll talk you through each type below.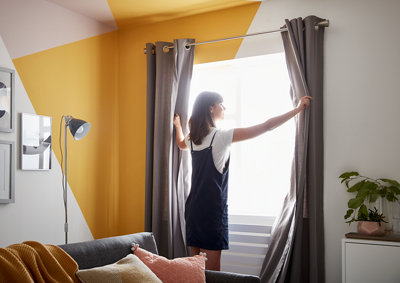 Safety first
Before you drill into a wall, always check for pipes and cables with an electronic detector. Never drill directly above or below a light fitting or power socket.
Looped blind cords are a potential hazard to babies and small children, so fit a safety device to hold the cord taut or out of reach like a cleat, P-clip or chain break connector. Avoid placing a cot, bed, playpen or highchair within reach of a cord, or positioning any furniture near a window that a child could climb to reach a cord.
How to fit a roller blind
Roller blinds come in lots of colours, designs and sizes. You'll need to decide if you want your blind to fit inside or across the top of the window recess and measure up before you go shopping. If your blind is going inside the recess, remember that you'll need a little space either side, so it works smoothly. Many blinds can be cut to size but do check that the manufacturer recommends this.
How to put up a curtain track
To let in plenty of light, curtains need to run past the window. To make sure yours do, you'll probably need to fit your track to the wall above the window recess – although you can also fit it within the recess.
If you're hanging your curtains over a bay window, use flexible curtain track. The screws that come with a curtain track may not be long enough to fix the track securely, particularly if your plaster is old and slightly crumbly. If this is the case, you can either use longer screws and wall plugs, or screw into sound ceiling timber.
How to put up a curtain pole
Curtain poles come in metal, wood or plastic, and can make your curtain fittings more of a decorative feature than standard curtain track. The curtains hang from metal eyelets, rings or loops of fabric. You can adjust the length of some curtain poles, while you can cut others to fit using a fine-tooth hacksaw. If you want to hang very heavy curtains or your plaster isn't completely sound, you might need to use longer screws than the ones you get with the pole.
Step 1

The end brackets for your curtain pole should be at least 50 mm from either end of the recess. Mark the positions for the two end brackets and then check they're level with a long spirit level.

Step 2

After you've made sure there are no hidden pipes or cables, drill at the marked positions with a masonry bit. Insert some wall plugs and screw the brackets into place.

Step 3

Assemble the pole (cutting or adjusting the length as necessary), then slide it through the brackets. Leave one curtain ring on the outside of each bracket, with the remaining rings between them.
How to hem curtains
There's no need to be put off from buying the ready-made curtains you want, just because they're not the right length for your windows. With an iron-on hem you won't even need a sewing machine.
Wash your curtains before hemming them as the fabric may shrink slightly. All our curtains can be machine washed at 30°C.
Step 1

The first thing to do is decide how long you want your curtain. Measure the drop from the curtain pole or track. Consider the type of fitting and style of curtain you have, as this will affect the eventual length.

Step 2

Lay the first curtain down and flat, so you're looking at the reverse side. To allow for the hem, measure the length of the drop plus 100 mm from the curtain iron-on hemming tape. Mark this with chalk or pencil onto the fabric. Use a long ruler to get a straight cutting line and double-check your measurements. Then do the same with the other curtain, cutting off any excess fabric with sharp scissors.

Step 3

Set the iron temperature to wool / polyester. With the curtain face down, measure 50 mm from the bottom and fold the fabric. Fold it over another 50 mm, using pins to hold it in place. Then iron along the folds so you have a crisp crease.

Step 4

Remove the pins and lift up the fabric along the crease. Lay the iron-on hem adhesive strip inside the fold, adjacent to the crease. Do this along the full width of the curtain and cut the strip off at the end, making sure it reaches right to the edge.

Step 5

Check that the adhesive strip is lying flat and sandwiched neatly in the fabric. Then run the hot iron over each section, holding and pressing it for 6-10 seconds. Work your way across the width of the curtain, taking care not to stretch the fabric. Allow 2 minutes for the adhesive to set before you move the fabric. Repeat this process for the other curtain.

Top tip

Curtain tiebacks – These are the bits of fabric that hold your curtains when they're open. Fix them after hanging your curtains to make sure you get them in the right position.
Articles