How to make the most of your kitchen space
Declutter your kitchen and make it work for you
From microwaves and toasters, to stools, bins, highchairs and ironing boards, kitchens are crammed full of everything we might need to use on a daily basis. Whether you're cooking dinner, helping with homework, throwing a dinner party or just having a coffee - your kitchen needs to feel flexible and clutter-free.
Luckily, with just a few rules of thumb, some clever planning, and a selection of our solutions, you can create a kitchen that does everything you need it to – and a little bit more. Our Romesco sink, Pecel magnetic storage and the Soto space tower drawers are all designed with space in mind.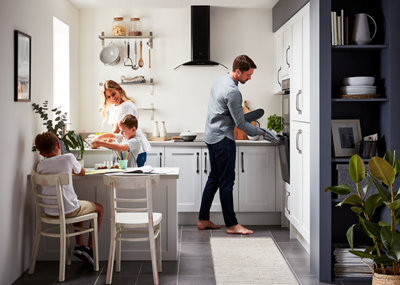 Plan it out
We know that beginning a new kitchen project is a big task. So we're here to help you create a robust plan that actually works in reality. When we design kitchens, we think about something called the 'working triangle'. This is the space between the three most used areas of your kitchen (the sink, hob, and fridge.) By making sure that this triangle is spacious, clear and dynamic you've already taken a big step towards making sure your kitchen is functional.
If you have enough space, consider adding an island or breakfast bar to your kitchen. It may seem like they take up a lot of space, but they can actually add a lot of storage. Double it up as table, or even place your hob or oven here, giving a sociable open plan feel.
If you have a small kitchen, the way you use your space really matters. By choosing compact, space-saving solutions, multifunctional products and light-reflecting finishes, you can make your kitchen feel more spacious and a whole lot easier to use.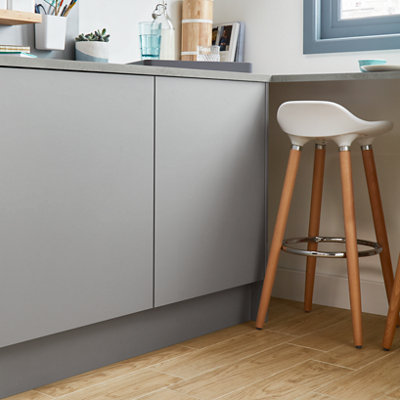 Cabinets & drawers
Once you've decided the layout of your kitchen, it's time to think about the storage and the types of cabinet you want. Each style offers different advantages, from tall wall cabinets that use the whole height of your space, to larder units that can become home to your appliances or be turned into storage towers. With our Caraway cabinet range, you can create a huge amount of combinations to suit your needs. Each cabinet works together seamlessly and lasts a long time.
When choosing your cabinets, try to plan out the 'zones' of storage for the different items in your kitchen. From food and perishables to utensils and cleaning supplies, everything needs a place.
The key to this is to make use of your drawers. While many people like to use fewer drawers in their kitchen, they can really boost the amount of easily accessible storage in your kitchen. It's even easy to create a clean 'drawer-less' look with hidden internal drawers. Our Soto drawers are especially useful, with two depths (standard and deep), 100% opening, and soft-close build.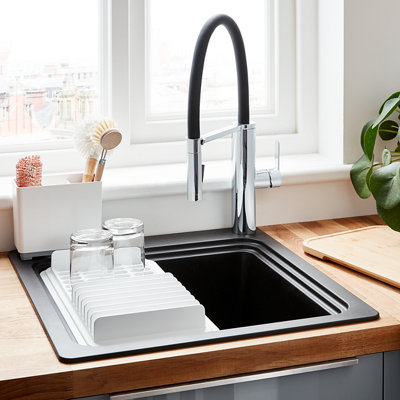 Add the finishing touches
While your overarching plan is crucial to making sure you have an organised kitchen, it can be the little things that make the room perfect. If you want to keep your space flexible, we recommend our Pebre internal storage range and our Romesco sinks. They've both been designed to help you make the most of the space you have.
Planning a kitchen around the working triangle
When designing the layout of your kitchen, it's important to consider the 'working triangle' between the cleaning, cooking, and storage areas of your kitchen. By considering this in your design, you can ensure that each point of the triangle can be accessed, and that your kitchen is easy to move around.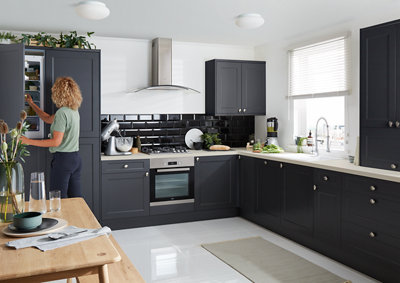 To make the time spent in your kitchen easier, try laying it out around the working triangle. You can do this in a few ways:
The total distance of the triangle (between all three points) should be no more than 5m (with a recommended minimum of 3m)
The sink should be the easiest to access part of the triangle, as it's the most used area of the kitchen
Articles