How to choose smart security & safety devices
Smart devices for protecting your home inside and out
Smart technology is changing the way can we protect our home, making it easier than ever to keep our most important things safe and secure.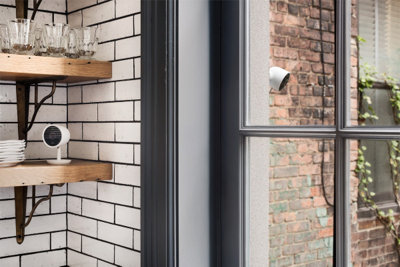 Whether you are thinking of giving your home security an upgrade or simply want to keep an eye on your home whilst you are away, smart home security devices can provide peace of mind, no matter where you are in the world.
At B&Q, we understand that protecting your home is important. That's why we've curated a range of smart home security and safety solutions that are easy to connect and simple to use. From smart cameras and smart security systems to smart smoke alarms and smart doorbells – smart security devices are changing the way we secure and protect our home for the better.
The great thing about smart security is that it can be easier to install than the older, wired security systems. Security cameras and alarm systems used to have wires everywhere, but now devices can connect to your Wi-Fi, there's no need for cables or leads linking everything together. Not only does it make installation a lot quicker and more convenient, but it also makes it easier to take the devices with you if you rent or plan to move in the future. You can control or monitor them from anywhere with a smartphone, tablet or computer, giving you peace of mind at anytime.
Smart security systems are modular as well, for example you can add extra cameras or motion sensors from the same range and link them together seamlessly.
Our smart security devices work with the popular voice assistants like Google Nest speakers and Amazon Echo with Alexa and they also come with their own apps.
To keep things simple it makes sense to choose one home security brand (to create an ecosystem) for your alarm or camera system and stick with it. However, there are some security devices which can integrate with other smart devices so it's always worth checking the compatibility features when deciding on your smart home set up.
A big benefit of smart systems is convenience. You can easily check live camera feeds direct from your smartphone, arm or disarm alarms automatically via an app or test the smoke alarm without having to climb a ladder!
Let's look at the latest smart security and safety devices to help protect your home along with a few "smart tips" on how to put together an efficient system which is right for you and your home.
Articles