How to add steps & railing to decking
Introduction
Unless your deck is at ground level, you'll need steps to give you easy access to your garden or link different levels of the deck. If you add a handrail and balustrades they'll turn a functional stairway into an attractive feature as well as helping to prevent slips and falls.
How to add decking steps
A basic open stair is all that's necessary on a low deck, but for higher ones you'll need handrails. Be sure to check the most up-to-date Building Regulations.
The easiest way to build steps is to buy pre-formed kits that include two stair risers (side panels) and step treads. They're available in three, four and six step options.
Alternatively, build your own with two risers (side panels) and as many separate step treads as you require. We're going to take you through this process for timber deck boards. If looking to lay solid composite decking steps, follow steps one and two below and then jump to the section 'How to fit solid composite stair treads'.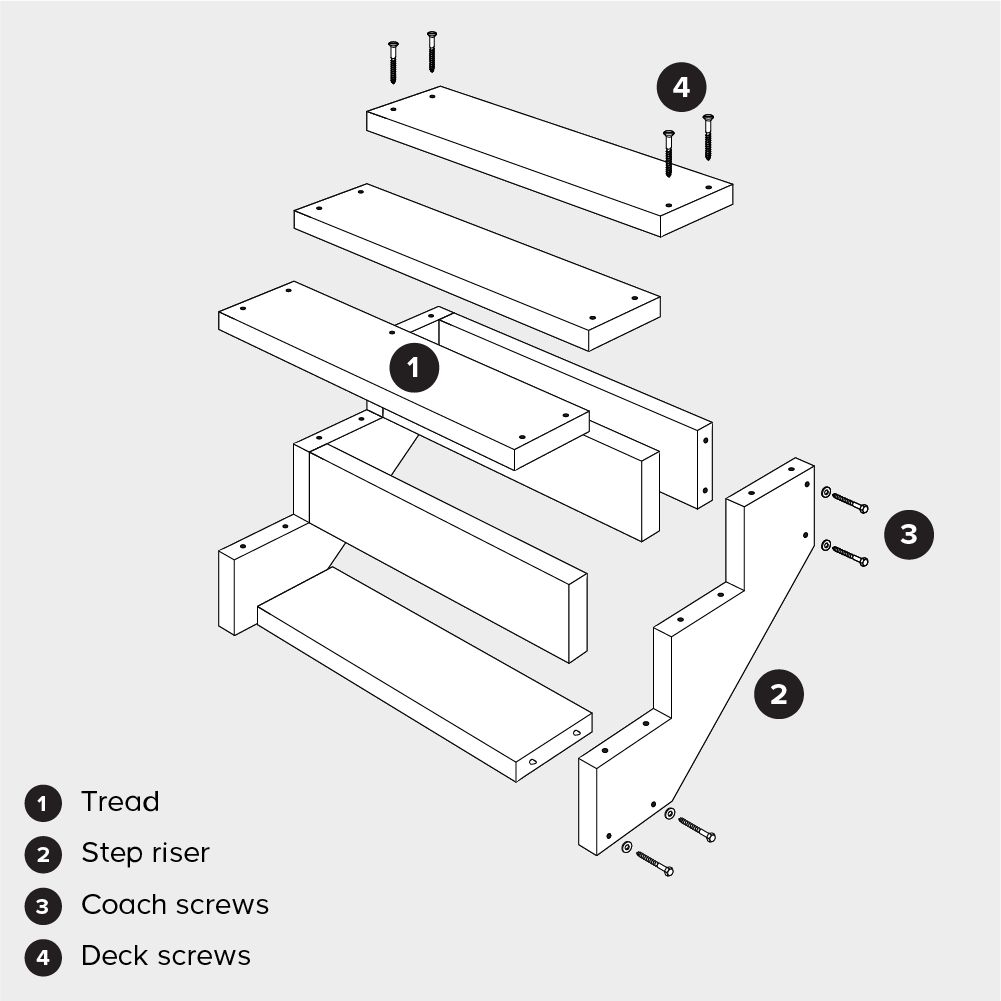 If building your own steps, we suggest:
A step tread width (the width of the steps) of 900mm - it should not be less than 760mm.
Stairs wider than 900mm will need to add a central step riser to support the steps and prevent them buckling.
A step depth (the vertical distance between each step) of between 150 and 180mm if building your own riser. This ensures the steps are a comfortable depth and not so deep that they're an effort to climb, but not so shallow that you trip on them. This is especially important for the bottom step - between the step support pad (the step's foundation) and the first riser.
Top tip: Layered timber decking
Consider using a layered surface deck board, such as the Walksure or Grassedeck deck boards, for your steps. The extra layer improves the grip, making it a safer step.
How to fit a handrail to steps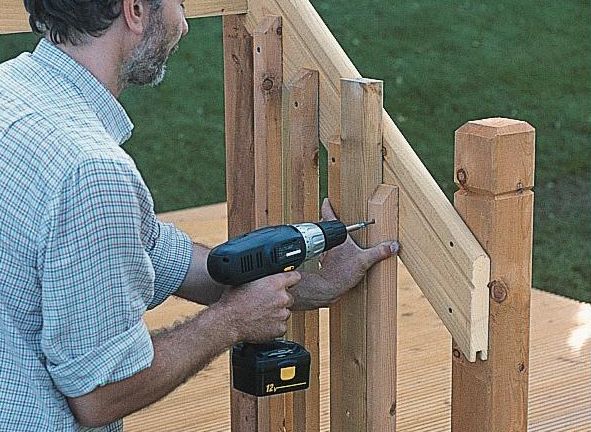 In order to fit handrails to your steps, you'll first need to fix notched deck posts at the top and bottom. Notched (or rebated) deck posts have had a section of the post removed in order that it butts up to the steps better.
Step 1

Measure and mark the post accurately with a square prior to making any cuts.

Use a reciprocating saw or jigsaw to score the post. Remove the weakened sections with a chisel making sure not to remove more than half the post or you'll significantly weaken its structural integrity.

Smooth down any rough or cut edges with sandpaper and treat with an end grain protector.

Step 2

Drive two coach bolts through each post into the step riser.

Position a length of hand rail on the outside face of the posts parallel with the angle of the steps.

Mark with a pencil the line of the outer edges of the posts and cut along this line with a jigsaw.

Bolt the hand rail to the posts and check that the edges are neatly flush.

Step 3

To attach spindles, fit a base rail in the same way as the hand rail. Then cut the spindles to length and screw them in place.
How to fit a balustrade to an existing deck
Hand and baserails with upright balusters won't just help prevent falls. They'll also instantly transform your basic deck into a more elegant feature. Notched posts are specially profiled at the bottom so you can attach them to an existing deck.
Articles