See more Hoses, pumps & irrigation
Hozelock Auto-reel Wall-mounted Hose reel & hose (L)30m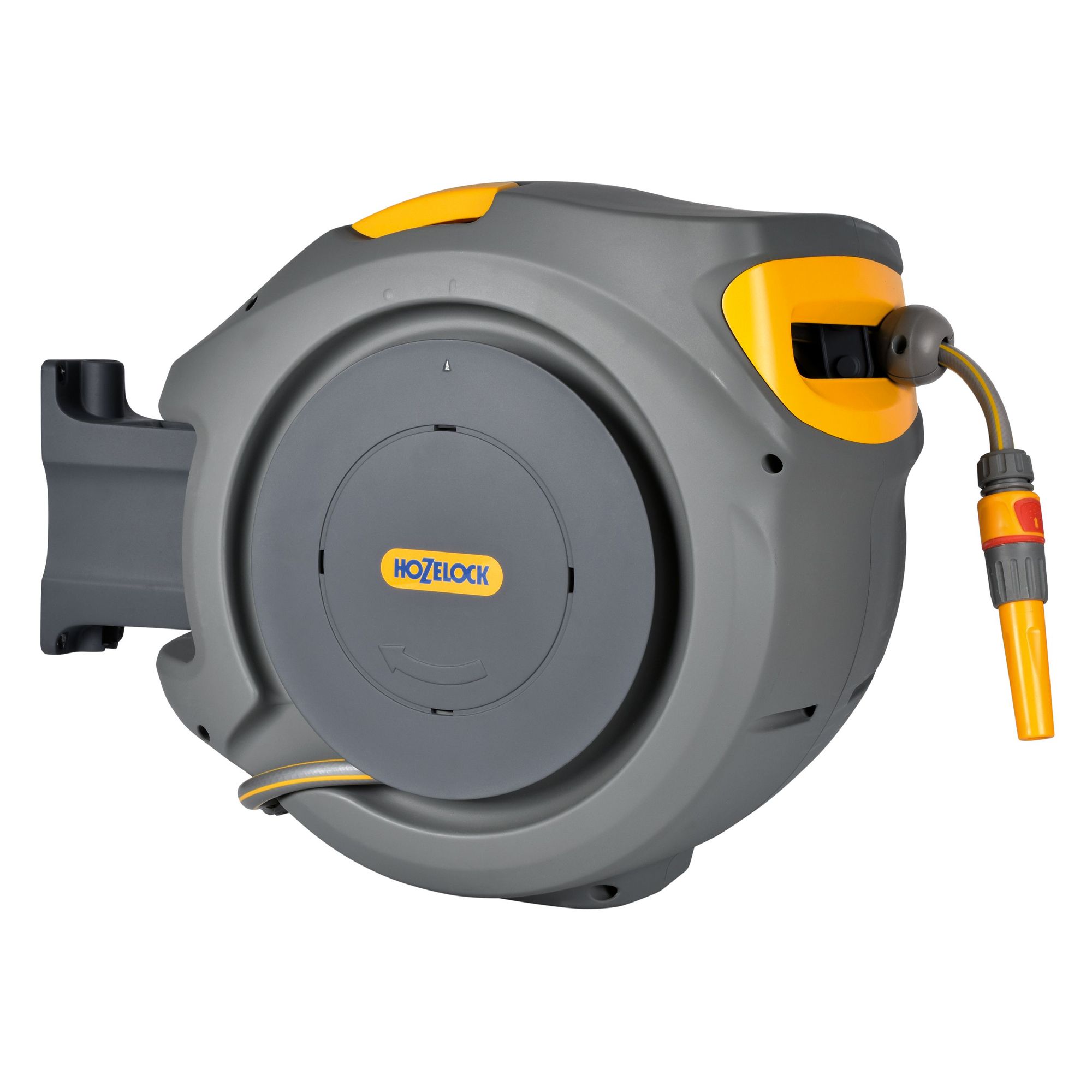 Product details
Product information
The Auto Reel smoothly and easily unwinds the hose. The reel's mechanism automatically locks so that you don't have to hold the hose taut. To unwind more hose, simply pull the hose and the mechanism will unlock. When it is time to rewind the hose, a simple tug unlatches the drum, and the Auto Reel's patented automatic rewind system takes over. The braking mechanism ensures a controlled rewind whilst the layering system neatly coils the hose with no kinks or tangles. The Auto Reel neatly stores and protects the hose in a tough, UV resistant Polypropylene case, ensuring the hose remains protected. The robust wall bracket allows the Auto Reel to pivot 180° degrees, allowing you to reach every part of your garden and store away flat against the wall after use. Neatly store the feeder hose when not in use. This is especially useful when tidying the unit away in winter. The leak-free parking point prevents drips when storing in your shed or garage. Also includes an integrated child lock, ensuring the hose is only pulled out when needed. All the fittings you need – complete with tap connectors, soft touch hose attachments, feeder hose and an adjustable spray nozzle, your Auto Reel comes with all the necessary parts you need to get watering straight away.
Comes with Tap connectors, soft touch hose attachments, feeder hose and an adjustable spray nozzle
Compatible with Standard hose fittings
Features and benefits
A powerful spring automatically rewinds the hose without any kinks, tangles or effort
Wall mounted with a 180 degree pivot, allows you to reach every area of your garden
Complete with all the fittings you need to connect to your tap and start watering
A fitted Hose Stop prevents the hose fully retracting into the unit, meaning the hose is easily available every time
Specifications
| | |
| --- | --- |
| Colour | Grey |
| Hose length (m) | 30m |
| Material | Plastic & steel |
| Product weight | 10800g |
| Mounting type | Wall-mounted |
| Product code | 5010646059565 |
Documents
Product Instruction Manual
Good but not worth the price tag
Brought this as it was the only 1 in the store. half the time it won't go all the way back in, so you have to pull it all out to get it back in. It doesn't like any pressure in the hose so to get it in you have to turn tap off and spray any remaining water out.
Its good when it works
Good product
I couldn't leave hose out for foxes and find this an excellent answer
A Good reel (really)
The Shredder - 9 months ago
HI I purchased a Hozelock Auto Reel last year and it has performed faultlessly.
There are ONLY TWO reviews about the reel and it would be a shame if prospective purchasers were put off by these two reviews one of which could easily be resolved by contacting Hozelock directly and requesting a "out of guarantee " repair. The other review consists a problem that sounds like if investigated may be resolved.The only problem I can see is one that concerns security of the product.
Unfortunately for B&Q it looks like either they don't read these reviews or B&Q have an agenda. Either way prospective purchasers should not be put off buying quite a decent reel.As for longevity????
Nothing but trouble
Rob Stark - 11 months ago
I bought this product in December and the first time it worked really well and I was so pleased with it.
The second time I used it in January it would not feed back into the unit.
I spent almost half an hour manually feeding it back.
Unfortunately I didn't keep the receipt so now face buying a new hose reel which will not be this model.
It's brand new and destined for the rubbish tip.
Broken spring
PenguinsRock - 1 year ago
Hi, buy the manual version. Have the older version of this but the same applies.
The spring inside has broken on our. Hoselock do not supply spares so i cannot repair it. the spring was crack right across but hose lock say its due to rust because it has been left outside. for the sake of a 2min repair I am going to have to skip the entire unit.
Avoid , you cant repair and you cant leave out in the rain !