GoSystem Micro-tech Torch kit MM1000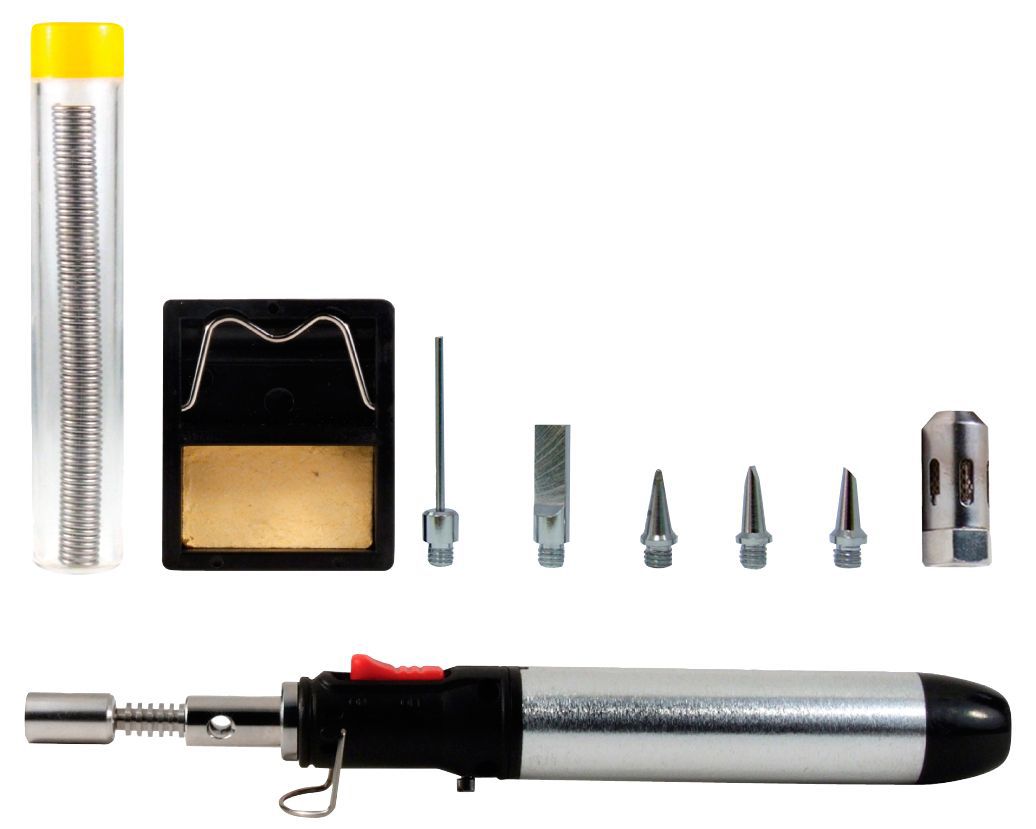 Product details
Product information
Fix and weld your metalwork with this GoSystem cordless torch kit. Suitable for intricate soldering. It can reach a temperature of 1200°C.
Compatible with Butane gas
Comes with Includes solder, burning tips, hot knife and hot blower
Specifications
| | |
| --- | --- |
| Maximum operating temperature | 1200°C |
| Model name/number | MM1000 |
| Pack quantity | 1 |
| Product code | 5036720100015 |
Difficult to refill
Refilling seems to waste more gas than goes into the blowtorch. Even using the GoSystem canister recommended it is very hit and miss to refill. If it could be refilled reliably it would be a good product, but as it is the amount of gas wasted will make it expensive for more than very occasional use.
Very poor performance
This is totally useless!!

It would even get hot enough to tin the cables.

Had a small flame coming out of the adjustable power controller
What an excellent Soldering Iron!
NeoTek Amusements - 7 months ago
Having read the reviews before buying this I was little put off.... but went for it anyway and really glad I bought this now, many reviews here being very critical of refilling this iron but I didn't have any issues with mine, as long as you use the right end from a gas cylinder cap one that fits the filler hole correctly then it will fill up just fine with no leaks, I bought my butane cylinder from B&Q which has the correct fill end but most gas cylinders carry the same ends.
I bought this iron as I was getting fed up with a wired iron and the wire getting in the way, with the gas iron that eliminates the problem and is very mobile, the iron comes with a selection of tips for different types of work and has adjustable heat settings and as well as being a soldering Iron it's also a mini blow torch which I've just used to fill in some holes on a steel arcade machine panel with other bits of steel the torch did a fine job of fusing the 2 together with steel faux and solder…the torch did a good job of flowing the solder around evenly.

The soldering Iron also come in a hard plastic case which is ideal so you can keep it all together, overall very impressed.
Walk away.
Worked fine for a few minutes then showed all the signs of running out of gas. Spent ages trying to refill it with the heavy leakage that everyone else mentions but still only managed a very feeble flame and it eventually packed in altogether. Perhaps the nozzle is blocked, perhaps it isn't taking gas. Lost my rag with it now, looking for a better product to try.
bit meh there are better out there
pros and cons of the item
pros # comfortable to hold and straight forward usage
comes with everything except gas

cons # filling system is very poor used go gas refill for this torch and as they come empty it jetted gas everywhere as it fills wasting as much as goes into the torch
# the torch doesnt have a peitzo ignition so a lighter or matches are required